Welcome to Our World
10 Days/09 Nights
It is often said the best way to travel is to visit knowledgeable friends who take you to their favorite places and introduce you around. Welcome to Our World will provide you with that kind of experience.
Letter Codes: B = Breakfast, L = Lunch, D = Dinner, TG = Transfer Guide,
LG = Local Guide, SG = Service Guide, NG = Naturalist Guide.
Day 01: Arrival San José, Costa Rica
(TG) (No meals)
Arrive at Juan Santamaria International Airport. After passing through Immigration you will be met by a Costa Rica Expeditions representative who will give you a sticker to facilitate clearing customs. When you are exiting the building, look for a Costa Rica Expeditions Guide in a bright orange or yellow shirt holding a sign with your name on it. He or she will take you to your hotel.
Overnight at: El Presidente Hotel. Standard Room - Breakfast included
Number of Nights: 2
Day 02: San Jose Farmer's Market, Central Market & Theater Presentation (B,L,D) (NG)
Today meet your Private Bilingual Naturalist Guide and Spanish speaking driver. After the first of what will most likely be many cups of Costa Rica's gourmet coffee, begin an early morning visit to one of San Jose's Farmer's Market's or the Wholesale Food Market.
These markets offer a large gathering of farmers, known as Campesinos in Costa Rica, as well as cheese makers, bakers and artisans who come to sell their products. Many Costa Rican families make a habit of going to the Farmer's Market to buy the freshest produce at the lowest price.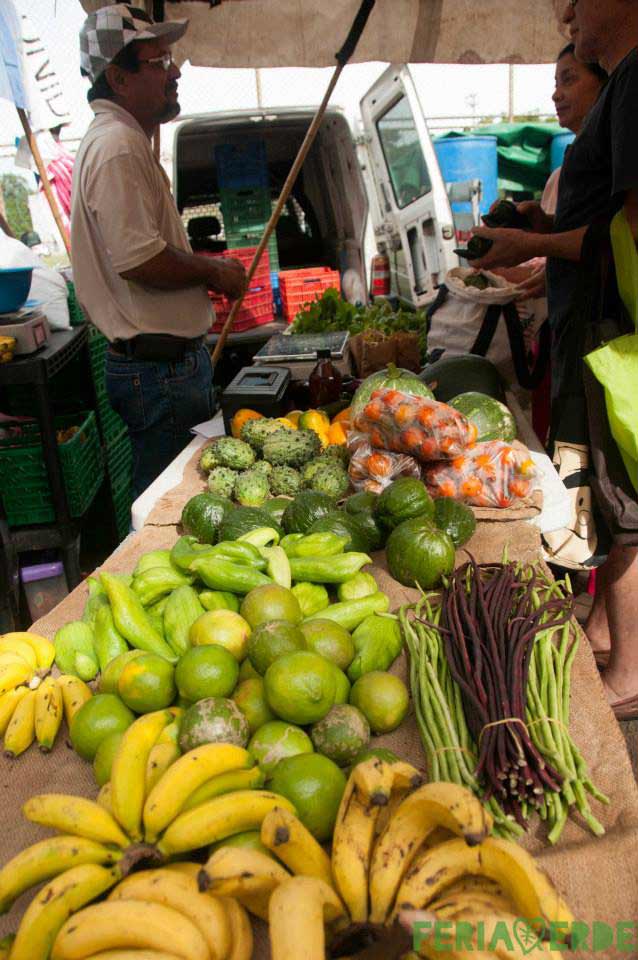 Often the whole family will work the stand; children from the highlands help stock vegetables, take your order and sweep up the garbage. Starting at around 5 a.m. the first shoppers arrive, and the streets are lined with colors and scents. Fresh tomatoes, piles of bananas, mangos and pineapple, ice cold coconut water, mint, rosemary and packages of cashew nuts line the streets.
Campesinos drive to these markets from all over the central valley in pickups and small trucks brimming with fruit, lettuce, cheese, bread, spinach, plantains, herbs, eggs, you name it, to begin setting up their stand the night before. It's not uncommon for babes to sleep in the truck while mom and dad work most of the night setting up their stand.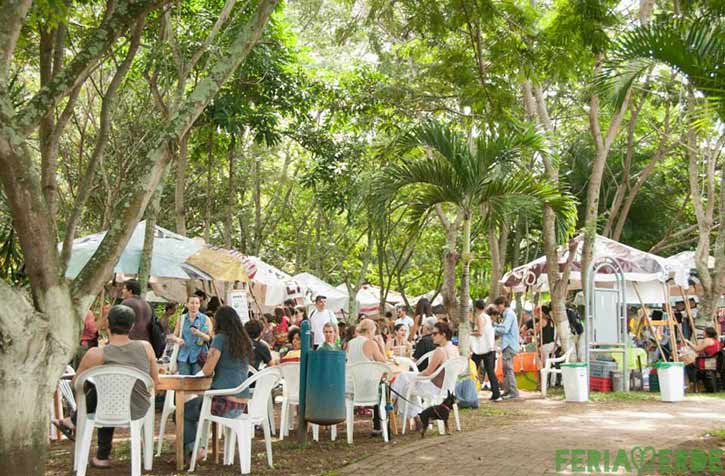 After wandering through the market and breakfast, continue onto the Mercado Central or Central Market of San Jose.
The Central Market in the heart of downtown San Jose was founded in 1880. If you want to understand Costa Rican popular culture, go to the Central Market.
Here you can buy anything from fruits and vegetables to religious images to a pet iguana.
Mercado Central is home to Costa Rica's best known traditional neighborhood restaurants, good for a cheap eat, and for some reason known country wide as "sodas".
This rambling warehouse is Costa Rica's melting pot, here all social classes converge. Everyone from well to do matrons to the humblest of housewives buy in the Central Market.
Lunch included at the market.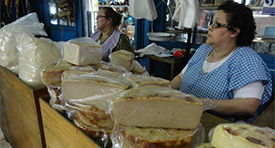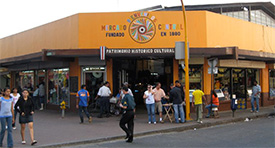 After lunch at the market, pass the afternoon at your leisure.
In the evening, attend a show at one of San Jose's theaters, tickets for the 2014 season are not available at this time, but we know that there will be opera, the National Symphony, the Philharmonic Orchestra or a presentation by a local dance or musical group and guarantee that you will have a ticket.
Dinner included at a Local Restaurant
Day 03: San Jose / Nectandra Cloud Forest Garden / Monteverde (B,L,D) (NG)
After breakfast at the hotel, drive for the approximately 4-hour drive to Monteverde. Stop en route at the Nectandra Cloud Forest Gardens.
It all started when the Evelyne and David Lennette, both Molecular Biologists from Berkley, joined us on a Costa Rica vacation led by our guide Arturo Jarquin.
By the time they left after their 10 day vacation, the Lennette's, Arturo and his friend, founder of Costa Rica's National Parks system, Alvaro Ugalde, had decided to create a model private reserve. They went on to 257 acres of land in the premontane cloud forest; the Nectandra Institute and Cloud Forest Garden were born.
Most likely you will have the opportunity to get to know one of the founders while you are there.
Nectandra Cloud Forest Garden
Located 80 km Northwest of San Jose, going north from San Ramon, it is the centerpiece of 104 hectares (257 acres) of primary and secondary forest. With few exceptions, most of the plants featured in the horticultural observation area are from the preserve and its immediate surroundings. Some of the plants in the design are included as pure aesthetic elements, others for their importance in medicinal, indigenous and cultural uses. A small number of changing exhibits highlight scientific information on the ecology of the cloud forest.
Beyond the confines of the Garden, the remaining biological preserve is restricted to scientific field research carried out by a non-profit organization, the Nectandra Institute. Current scientific activities include botanic inventory, preparation and identification of herbarium specimens of dominant and unusual plants, and investigation into the variables influencing natural reforestation in cloud forests.
After lunch at Nectandra, continue to Monteverde
The Monteverde region was settled by Costa Ricans in 1910, people moved to the Guacimal area to work at the hydroelectric plant that was started there by American investor Minor Keith. They needed the electricity for the gold mines in Abangares and Puntarenas.
People settled further up the mountain and lived in a Hamlet, they named it Santa Elena. What began as a tiny outpost is now home to banks, hostels, restaurants and shops at the heart of the Monteverde region. Living on this mountain range was extremely difficult, when a group of Quakers from Alabama moved there in 1954; they turned the ox cart trail into a road that could be navigated by their 4x4 vehicles. They had no doctor, water was brought in from nearby creeks and rivers and they lived off the land.
Originally just 4,000 acres, the Monteverde Reserve now includes a protected area of approximately 25,000 acres, comprising six different life zones. So many habitats in such a small area, along with extensive trail improvements, allow visitors to enjoy a rich diversity of flora and fauna with relatively short distance and easy walking.
The Reserve was founded in 1972 and extends down both slopes of the Tilarán Mountains (elevation 2,300 to 5,600 ft.). It encompasses six different ecological life zones and is home to more than 100 species of mammals, 400 species of birds and 1,500 species of plants.
From January to July, depending upon your luck and patience, you may observe the Resplendent Quetzal (occasionally a dozen or more individuals at once). Other species include the Three-wattled Bellbird, the Emerald Toucanet, and White-faced and Howler Monkeys.
Dinner and Overnight at:Monteverde Lodge & Gardens. Forest View Balcony Room.
Number of Nights: 3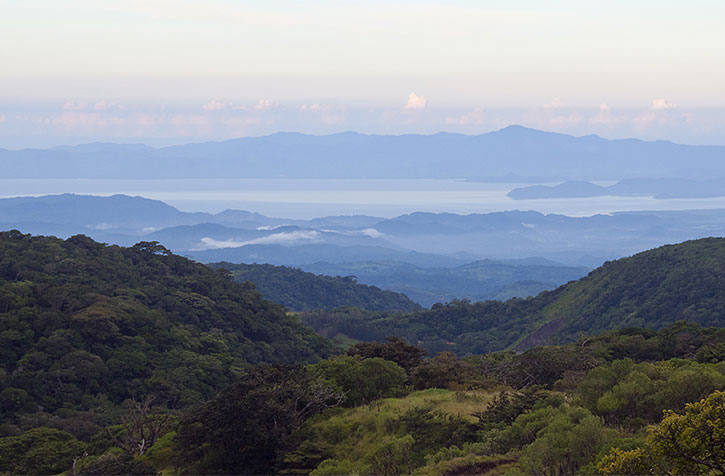 Day 04: Monteverde, Curi-Cancha Wildlife Reserve & Cabure Chocolate Tour (B,L,D) (NG)
For early risers, your guide will be waiting at 5:30 am for a bird walk in the gardens of Monteverde Lodge. The coffee and cookies will be waiting too!
After breakfast, drive 15 minutes to the Curi-Cancha Wildlife Reserve where you will spend the morning exploring the trails with your Naturalist Guide.
Curi-Cancha Reserve protects 96 hectares or 237 acres of forest. Approximately 50% of the reserve is covered in fully recovered forest, 45% consists of secondary forest and the remaining 5% is open areas.
You will have the opportunity to see Cloud Forest, and a Transitional Pre-Montane Wet Forest, the diversity in types of forest creates diversity in wildlife. You will also have time to look for birds and other wildlife, the reserve has a bird list of over 200 species including the Resplendant Quetzal, the Three-Wattled Bellbird, Toucans, Black Guans and many others.
It is also possible to see the White-Faced Capuchin, Howler and Spider Monkeys. While a bit more difficult to see, we know that the Tyra, Collared Peccary, Two and Three Toed Sloth and the Armadillo are also permanent residents.
The reserve has a total of 6 kilometers (a little over 3 miles) of trails with easy access. Their policy is to never have more than 40 guests in the reserve at the same time. The reasons for this are twofold, first to protect the forest and secondly to insure a high quality experience for guests.
Following the visit to Curi - Cancha, stop at the Cabure Café for a chocolate tour and lunch. During the tour your Chocolate Guide will demonstrate the process of chocolate making, beginning with the bean and ending with the production of hand-dipped truffles.
Back at Monteverde Lodge, in the early evening, sit around the open fire place and meet Mr. Marvin Rockwell while you try some of Monteverde's cheeses and our favorite South American wines.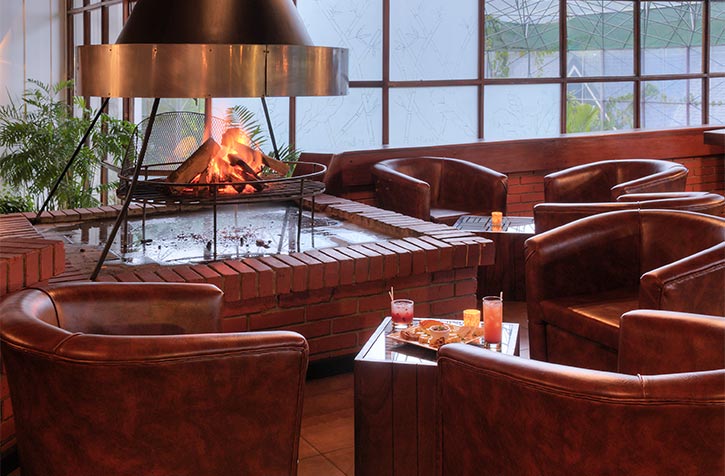 Marvin is a longtime friend, when Costa Rica Expeditions first started doing Natural History oriented tours back in early 80's he was one of the most requested Naturalist Guides of the company.
After he decided to spend more time at home and less time traveling with guests, we've stayed in touch. Marvin's enthusiasm and mischievous stories (80 year old Marvin does Kenya on his own) continue to make us smile.
To give you a bit of insight on Marvin, we've included an excerpt from his autobiography below:
Taken from A Brief History of Monteverde, by Marvin E. Rockwell
Marvin E. Rockwell was born at Fairhope Alabama on November 15, 1922. His ancestors were Quakers at least to his great grandparents on all branches. He attended school in the one room Friends' School in Fairhope through the 8th grade. He went two years to the public school in Fairhope and the last two years of high school at Olney Friends Boarding School in Barnesville Ohio, graduating in 1940. He clerked in a grocery and feed store, worked in a baby chick hatchery, drove trucks including semis delivering petroleum products, was a postal clerk in the Fairhope Post Office, then was drafted into the army. He would not carry a rifle so he was trained as a Surgical Technician in the Army Medical Department. He was assigned to the Transportation Corps and served on ships, making one trip to Europe and several to Puerto Rico, Trinidad and Panama. He completed one year at William Penn College in Oscaloosa, Iowa. He refused to register for the 1948 Universal Military training Act and was sentenced to one year and one day in prison, serving four months and one day in prison then released on parole for the balance. Marvin was one of the group moving to Costa Rica in 1950, making the trip by land.
(If for any reason Marvin Rockwell is not available, another Local conservationist will join you)
Day 05: Monteverde Cloud Forest Reserve & Selvatura's Tree Top Walkways (B,L,D) (NG)
For early risers, your guide will be waiting at 5:30 am for a bird walk in the gardens of Monteverde Lodge. The coffee and cookies will be waiting too!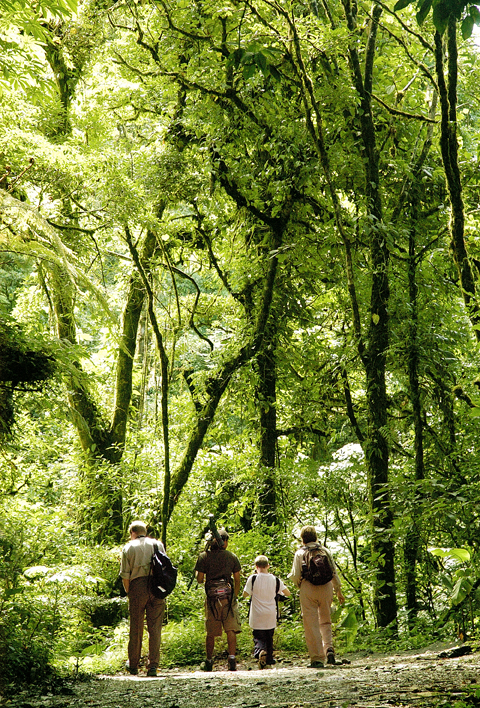 Today you will explore the Monteverde Cloud Forest Reserve, which is known in the scientific world as the place that gave the early warning on global warming after the disappearance of the Golden Toad.
Your group will be joined by two English speaking high school students from the Monteverde region. As you walk through the forest, you will have time to talk to them about their lives and plans for the future.
Originally just 4,000 acres, the Monteverde Reserve now includes a protected area of approximately 25,000 acres, comprising six different life zones.
So many habitats in such a small area allows visitors to enjoy a rich diversity of flora and fauna with relatively short distance and easy walking.
After lunch back at Monteverde Lodge, spend the afternoon hiking at canopy level at the treetop walkways and suspension bridges & at Selvatura.
Selvatura's Tree Top Walkways consist of a 1.9 mile (approximately 3 kilometer) trail that crosses through the Monteverde Cloud Forest.
Here visitors will walk on eight different bridges with various lengths ranging between 150 feet ( 50 meters ) up to 510 feet ( 170 meters ) and altitudes ranging between 36 feet ( 12 meters ) up to 180 feet ( 60 meters ).
Each bridge has a width of five feet and a capacity of up to 80 people per bridge making them both the longest and strongest bridge systems in the Monteverde Cloud Forest. The Tree Top Walkways are suitable for people of all ages.
Exhibits at Selvatura Park include a serpentarium, insect museum and butterfly exhibit. There will be time to spend inside one of the world's largest live butterfly exhibitions with an area of over 29,000 square feet (2,700 square meters).
A world in which a controlled climate provides the best temperature (82.4º F or 28º C) for more than 20 species of butterflies.
If you're interested you will have the opportunity to learn about their life cycle, and the special abilities and behaviors that have helped them evolve throughout thousands of years.
In the Reptile and Amphibian Exhibition you will find over 30 different species including frogs, lizards, geckos and snakes.
The insect display, named "Jewels of the Rain Forest," is by world renowned entomologist Dr. Richard Whitten who has been collecting insects for decades. It is reputed to be the world's third largest private collection. Take a close look at thousands of insects, butterflies and other species from all over the world, presented in a very artistic way.
Day 06: Monteverde / Arenal / Tortuguero (B,L,D) (NG)
After breakfast, early morning, departure in 4x4 jeeps for the 2 hour drive to Rio Chiquito, a small town on the shore of Lake Arenal.
Board a boat for a 1 ½ hour cruise on Lake Arenal. Be sure to have your camera handy, because when the volcano is clear, you will have opportunities to photograph this 5,479 foot almost perfect cone. Stop for a picnic lunch and while you lunch, add a few birds to your list and work on the perfect shot, your guide will share some of the history of Costa Rica's most active volcano.
After lunch, the boat will dock near the Arenal Dam where your Driver will be waiting to take you 40 minutes to the El Tanque airport in La Fortuna to meet your light charter flight (flight time 45 minutes) from La Fortuna to Tortuguero,. Tortuga Lodge staff will be waiting for you at the airstrip and take you across the Tortuguero River by boat to Tortuga Lodge.
Originally intended to protect a major nesting beach of the Atlantic green sea turtle, Tortuguero National Park now protects 77,032 acres or 30,812 hectares, one of the last large areas of tropical rain forest in Central America. Eleven habitats are found in the park. Three species of monkeys (Spider, Howler, and White-faced), Three-toed sloths, and River otters are frequently seen along the natural inland waterways and canals. Caiman, iguanas, River turtles, Basilisk lizards, and Poison dart (Dendrobates) frogs inhabit the area, along with more than 320 species of birds including all 6 species of kingfishers found in the new world, 3 species of toucans, 8 species of parrots, and other neotropical species such as the Slaty-tailed trogon, White-collared manakin, Purple-throated fruitcrow, and White-fronted nunbird and many more species.
Afternoon at leisure.
Overnight at: Tortuga Lodge & Gardens. Upstairs Balcony River View Room
Number of Nights:3
Day 07: Tortuguero National Park & Tortuguero Village (B,L,D) (NG)
For early risers, your guide will be waiting at 5:30 am for a bird walk in the gardens of Tortuga Lodge. The same wonderful gourmet coffee and different cookies and muffins will be waiting too!
There is evidence that native people visited Tortuguero during the 5 month nesting season to hunt the Atlantic Green Sea Turtle since way before Europeans arrived in the Western Hemisphere. By the mid 1800's there was thriving trade in turtle meat, oil and shells, much of which was exported to the United States and Europe.
But it was not until 1910 that Don Walton Martinez a sea captain of Afro Caribbean origin decided to settle permanently in Tortuguero, where he planted coconut palms as way to have a year around income. Despite his Spanish surname Don Walton's native tongue was Afro-Caribbean English and he named his new home, "Turtle Bog."
When Don Walton died in 1941 the entire population of Tortuguero consisted of his 7 children and their families.
In 1947 timber companies from the United States set up operations in Turtle Bog and the area was quickly transformed from what was essentially an extended family farm to a town. The people of Spanish origin who came to work in the lumber business called the place Tortuguero.
Then in 1954 Dr. Archie Carr, a zoologist from the University of Florida, Gainesville arrived in Tortuguero to study sea turtles and the town was on its way to another big change.
By 1972 the timber boom was over. Many people left Tortuguero. Those who stayed returned to turtles and coconuts for income and hunting and fishing for much of their food. A few found work helping Dr. Carr. Among them was Walton's granddaughter Miss Juney Martinez who was his cook. Today we will have lunch in her restaurant which she runs with the help of her son, Cloyd, her daughter, Noly.
It was also in 1972 that the first telephone came to Tortuguero. It functioned as a kind of concession in which the concessionaire, a no nonsense business-woman named, Sabina, paid the phone company and charged the phone calls by the minute---some people said by the second.
Then in 1975 Dr. Carr and Costa Rican National Park System Founders, Alvaro Ugalde and Mario Boza convinced the Costa Rican Government to create Tortuguero National Park. The coming of the park deprived the towns' inhabitants of their traditional sources of sustenance. By 1980 the population of the town had shrunk from an estimated 300 persons at the peak of the timber boom to less than 200.
Beginning in the early 80's vanguard travelers began to discover Tortuguero, attracted by the beauty of the park and its highly diverse and abundant wild-life. Enchanted by what they found those early travelers spread the word. Now Tortuguero, still only accessible by boat or light air-craft, is a mecca for nature travelers.
The population has grown to some 1,700 inhabitants. The town's traditional problems due to isolation and poverty have been replaced by the challenges of absorbing the impact of over 100,000 visitors a year.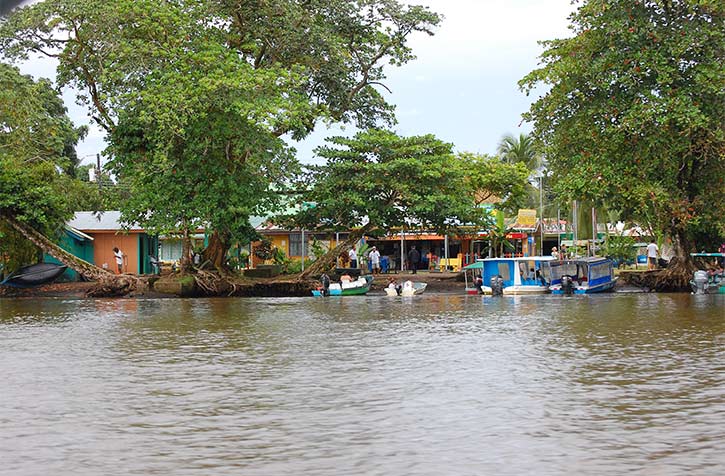 In the morning we will explore the rain forest creeks of the Tortuguero National park with your guide.
After lunch at Miss Juney's (yes, founder of Tortuguero Don Walton's daughter, now 75 years old) your guide will walk with you in the Tortuguero Village with time to stop at the recycling plant, one of its kind in Costa Rica and the local clinic where up until two years ago, there was a Doctor only once every Tuesday and Wednesday. Before that, people had to go all the way to Limon or Guapiles for medical service.
There will also be time to wander on the deserted beach (No swimming. Dangerous currents. Even more dangerous sharks.) where thousands of green sea turtles come to nest from June through October.
Day 08: Tortuguero National Park & The Words Adventure (B,L,D) (NG)
For early risers, your guide will be waiting at 5:30 am for a bird walk in the gardens of Tortuga Lodge. The same wonderful gourmet coffee will be waiting too, accompanied by a new set of cookies and muffins!
After breakfast, leave the lodge by boat with your Naturalist Guide and your local Tortuguero naturalist guide and boatman to explore the creeks of Tortuguero National Park.
The morning hours are especially active in the rain forest, when the wildlife is hungry and in search of their energy source for the day. It's not uncommon to find troops of Howler monkeys in search of tender young figs or the leaves of the Monkey Plum tree, you might also encounter a River Otter hunting. The Northern Jacana is often perched on an island of Water Hyacinth looking for insects and miniature shrimp and the caiman is quietly waiting for its next meal to swim by.
You will spend about three hours in the back water lagoons and creeks of Tortuguero National Park. Your boat is equipped with an ice chest with water and soft drinks.
Return to the lodge in time for lunch.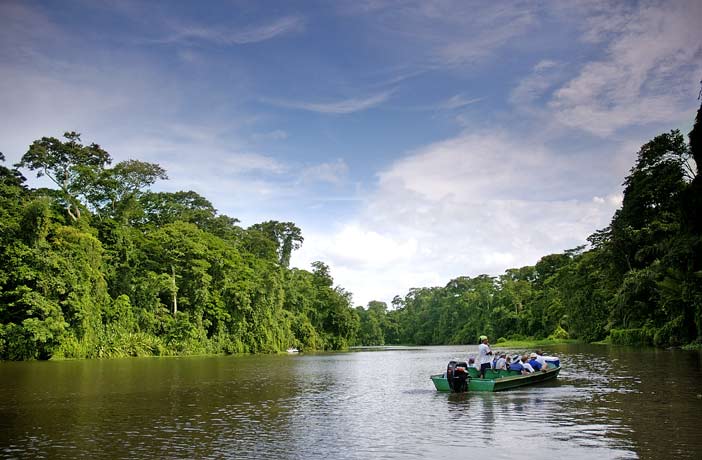 After lunch and perhaps a siesta in the hammock on your terrace, meet your guide and group on the dock for the 5 minute boat ride to the town of San Francisco de la Boca De Tortuguero, home of The Words Adventure.
For children in the developing world nothing beyond the Three R's in their own language is as valuable for them to learn as English. Young adults with a working knowledge of English have vastly more opportunities than their mono-lingual peers. Yet in Tortuguero, a town where at times there are more English speaking visitors than inhabitants, the vast majority of children grow-up without learning English.
The goal of this program is to allow you to spend time sharing your English knowledge with these young students, guided and assisted by our teacher. Enjoy getting to know the learners and helping them with their accents and vocabulary, while they tell you about life in San Francisco and if they can, ask you about your world back home.
Along with the Word Adventure program, Costa Rica Expeditions and Tortuga Lodge are supporting several other educational programs in the area. One is the creation of a music program at the Tortuguero High School. One easy way to help this effort is by bringing along an old instrument.
If you have and are willing to donate a violin, flute, clarinet, trumpet or trombone, go ahead and put it in your suitcase. Upon your arrival in Costa Rica we will make sure the instrument arrives at the Lodge with you, without including it in the restricted amount of luggage for air and boat travel.
For more information on other programs and how you can help.visit this page, speak with your travel planner or ask any member of the lodge staff.
Day 09: Tortuguero / San Jose (B,L,D) (NG)
Cross the Tortuguero River by boat and board your 30 minute Costa Rica Expeditions light charter flight from Tortuguero to San José.
Upon arrival, meet your driver for a morning of visits to businesses that have been started by the leaders of Costa Rica's next generation. Among the people you may meet are a professional photographer, graphic designer and conservationist and a thirty something Costa Rican authority on all things internet. End up at a boutique where only things designed and made by Costa Ricans are sold.
In the afternoon coffee will be served back at El Presidente Hotel where a tour of their exclusive Costa Rican art collection will be offered.
Farewell dinner at the hotel.
Overnight at: El Presidente Hotel. Standard Room - Breakfast included
Number of Nights: 1
Day 10: Departure (TG)
Transfer to the International Airport at least three hours prior to the departure time for your flight out of the country.
Price per Person in Double Room: $2978
Price in a Single Room: $3648
IMPORTANT NOTE: WHEN FLYING OR TRAVELING BY BOAT WITHIN COSTA RICA:A MAXIMUM OF 30 POUNDS OF LUGGAGE IS ALLOWED PER PERSON.
The 30lb weight limit for flights or boat trips within Costa Rica does not mean that you need to limit yourself to 30 lbs of baggage for your entire trip to Costa Rica. While it always makes sense to travel light, you can bring more than 30 lbs of luggage. We will store your excess luggage while you are on portions of the trip that involve flights or boat trips, and catch it up to you as soon as feasible after you have finished those sections. Arrangements can be made to permit more luggage per person at considerable extra cost.
---
INCLUDED
Accommodations: As featured in the itinerary. Meals: As indicated in the itinerary: B=Breakfast, L=Lunch, D=Dinner. Transfers: Included in fixed departure (group) programs, on arrival and departure, when arriving and departing on the first and last scheduled days of the tour. For all other tours, transfers are included as indicated. Porterage: The handling of two bags per person. Baggage and personal effects are at the owner's risk throughout the tour. Taxes & entrance fees: Hotel taxes, entrance fees to National Parks, museums and places of interest in effect at the time of booking are included unless otherwise specified. Sightseeing: As specified in the itinerary.
NOT INCLUDED
Costs of obtaining passports, visas or tourist cards; excess baggage fees; personal expenses such as room service, beverages and laundry; gratuities for tour escort, guides or driver; personal communications charges; international airfare and airport departure taxes (US$29 per person as of May 2013) excess mileage carried out at the request of the passenger; sightseeing or meals not specified in the itinerary; personal insurance coverage (strongly recommended).
---
HOTEL DESCRIPTIONS
Hotel El Presidente
The full service Hotel El Presidente offers 70 rooms in the heart of downtown San Jose. Guestrooms have city or mountain views. Beds have down comforters and premium bedding. The Hotel El Presidente is only a few blocks from the most important cultural and historical landmarks in Downtown San Jose: the Costa Rica National Theatre, the Gold -, Jade - and National Museums, the Asamblea Legislativa (Costa Rican Congress), the Plaza de La Cultura and Plaza de la Democracia and the National Cathedral. Breakfast buffet included. Hotel telephone: (506) 2010-0000.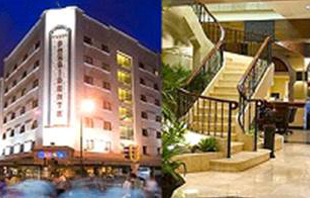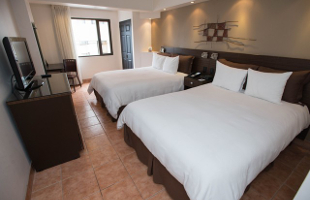 Monteverde Lodge and Gardens
Owned and operated by Costa Rica Expeditions, Monteverde Lodge & Gardens is located just 15 minutes from the famous Monteverde Cloud Forest Reserve. The main area of Monteverde Lodge includes a glass cathedral entry, high wooden ceilings, an open fireplace, restaurant and bar, and 15-person Jacuzzi. There are comfortable sofas in the bar, reading room and on the garden terrace. The landscaping is designed to bring the flora and fauna of the cloud forest to the doorstep of the hotel. A la Carte breakfast included. Cool climate. Hotel telephone:011 (506) 2645-5057.
Important Note:Monteverde Lodge & Gardens is a NON-SMOKING lodge. If guests wish to smoke, the only place this can be done is in designated areas outdoors.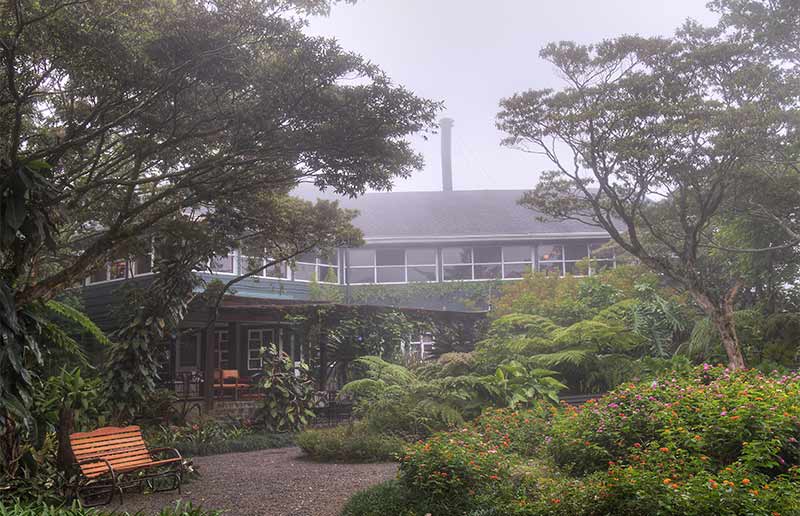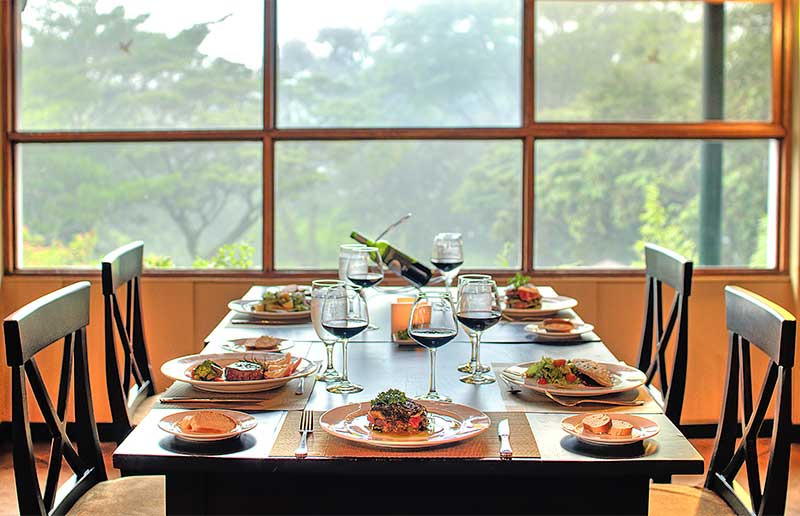 Forest View Balcony Rooms
Monteverde Lodge offers second floor Forest View Balcony Rooms with newly remodeled glass enclosed showers. Each room has two double beds (king beds are available on request and subject to availability). From your balcony seating area you can bird watch, have a cup of gourmet Costa Rican coffee or just sit and read or view the Cloud Forest. Sliding doors between the sleeping space and the balcony maximize privacy and invite the mountain breeze and sounds of the forest. Rooms have a hair dryer, in-room safe, coffee maker, alarm clock and laundry bag.
Monteverde Lodge & Gardens is owned and operated by Costa Rica Expeditions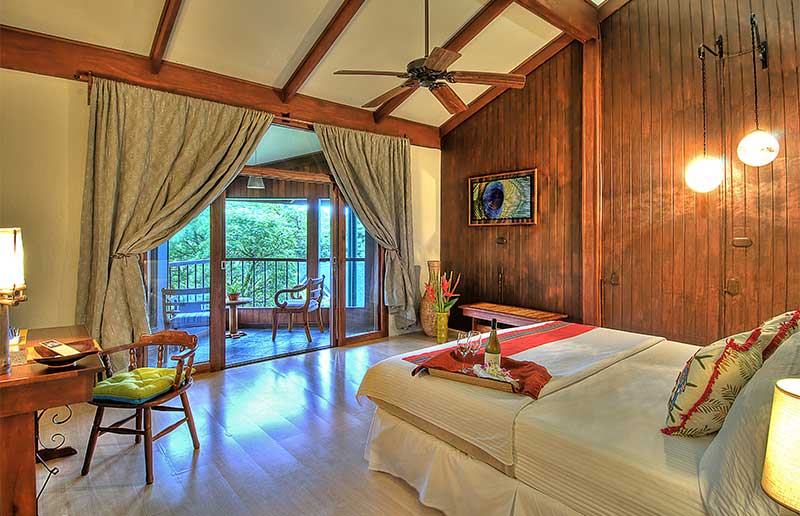 Tortuga Lodge & Gardens
Owned and operated by Costa Rica Expeditions, Tortuga Lodge & Gardens, situated on 146 acres of private land on Costa Rica's northeast Caribbean coast, was our first hotel. It is now our newest hotel. Everything we have learned about designing nature lodges over the last 25 years has gone into the remodeling of Tortuga Lodge. What we learned can be summarized in three words: "Reflect the place." The lodge has 14 River View Downstairs Terrace Rooms, 12 Upstairs River View Balcony Rooms and 1 River View Penthouse Suite.
The essence of Tortuguero is slow-moving tropical rivers. Everything about Tortuguero is defined by the rivers. They are Tortuguero's roads and Tortuguero's soul. If a guest wants to bring home the essence of Tortuguero he/she must get in tune with the rivers.
The Lodge's restaurant starts at the river dock and reluctantly moves inland. Our kitchen prepares a daily fixed menu delighting our guests with local dishes served in creative ways. Meals are served family style at your table. We are happy to accommodate special requests.
Designed to blend into the river environment, the infinity pool features an environmentally-friendly purification system that uses an undetectable amount of salt instead of commercial chlorine. The water does not irritate the eyes.
The all-pervasive presence of the water blurs distinctions. As your boat moves slowly through the forest, you are immersed in a world where the forest merges with the rivers and the water becomes part of the tree. Land and water, indoors and outdoors lose part of their meaning.
During the season (July through October) the highlight of your trip to Tortuguero is actually standing a few feet from a 300-pound Green Sea Turtle while she lays 80-100 eggs, covers up her nest, perhaps digs a false nest to throw off predators, and, finally, after more than an hour, returns to the sea. Hot Climate. Hotel telephone: 011 (506) 2709-8136
To view a video on Tortuguero National Park and Tortuga Lodge, click here.
Important Note:Tortuga Lodge & Gardens is a NON-SMOKING lodge. If guests wish to smoke, the only place this can be done is in designated outdoor areas.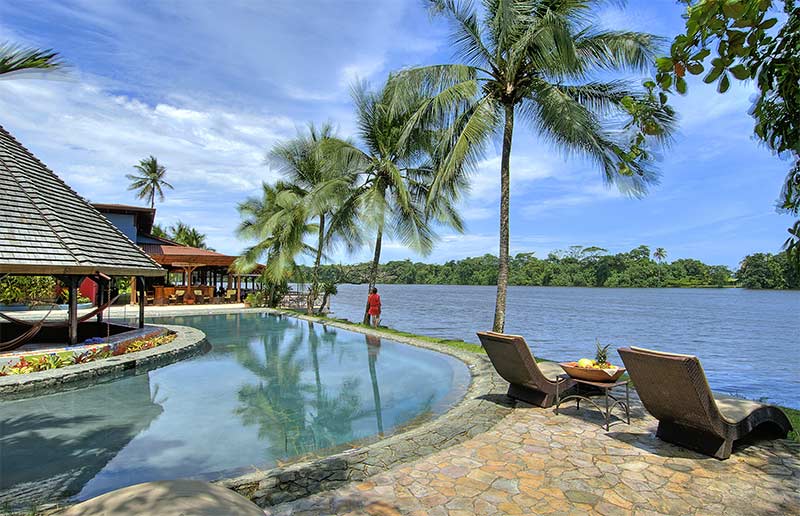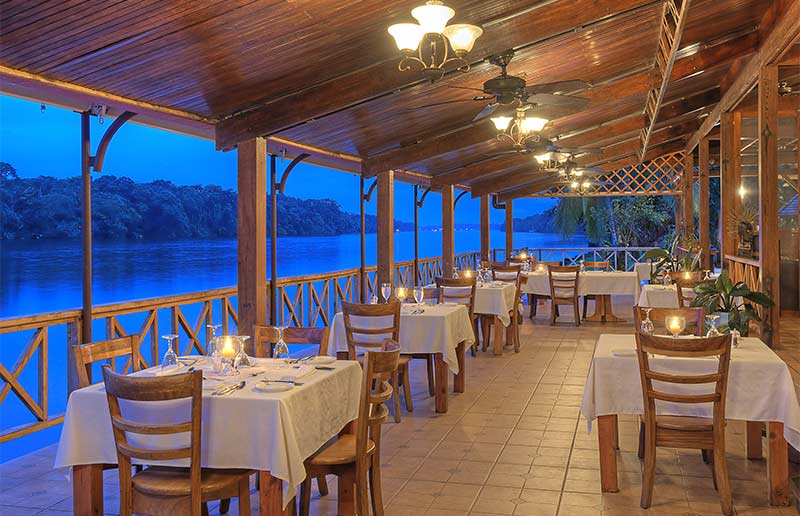 Upstairs River View Balcony Rooms
Located on the second floor (15 steps), Upstairs Balcony Rooms face the Tortuguero River.
Upstairs Rooms have almost as much window space as wall space; all windows are screened, they do not have glass allowing guests to listen to the sounds of the rainforest. Rooms do not have air conditioning. These rooms have a wooden floor, a high ceiling and on most days, a nice breeze flowing through the room. Multiple bedding configurations are available.
All rooms have a private shower with solar heated hot water, a ceiling fan, in-room safe, alarm clock, free wireless internet, hair dryer, two in-room wicker chairs and a small table
Each room has a front porch sitting area and hammock.
To view a video on Tortuguero National Park and Tortuga Lodge, click here.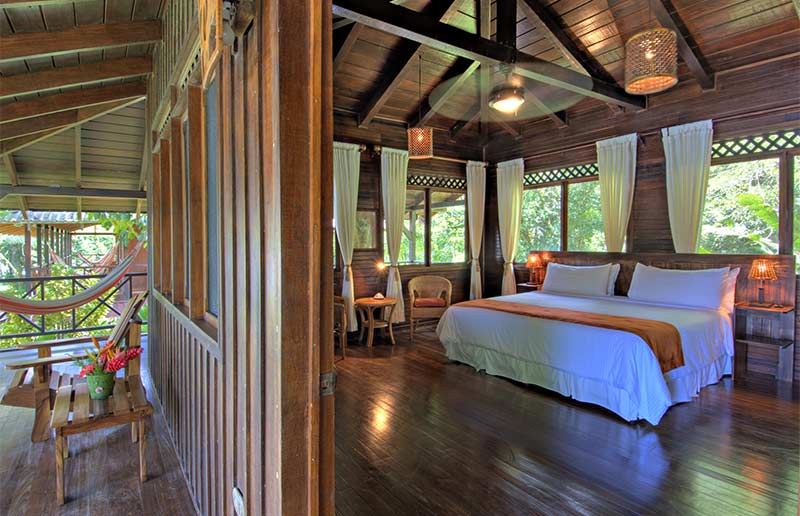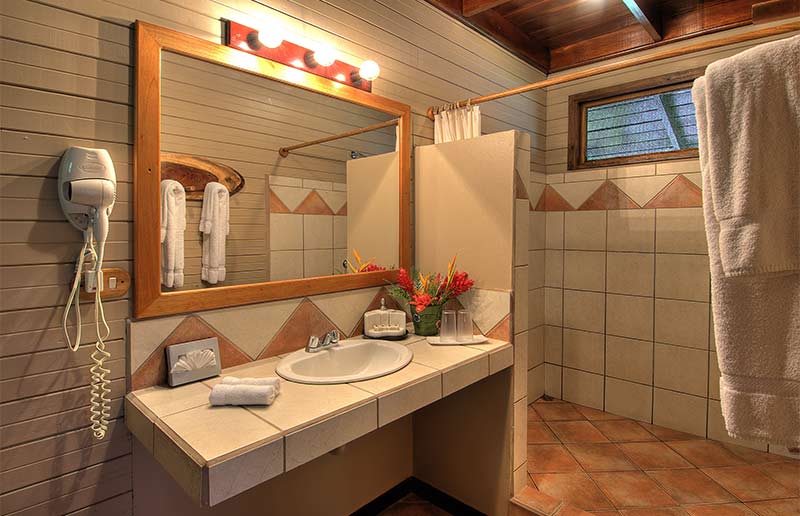 ↑ Back to Top