Tours of a Lifetime
National Geographic
Top 3, Best Values in the World
Travel & Leisure
Eduardo Lopez For the Latest Feedback Click Here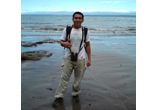 Eduardo was born in the Atlantic slope town of Guápiles. His father worked in agriculture and his mother took care of the family.
As a child, Eduardo went on a field trip with his second grade class to the National Museum in San Jose. He remembers a young man giving a talk to a large group of travelers in English. On that day, his dream of learning English and becoming a guide began. He wanted to be able to fulfill a dream of his fathers, that one of his children would speak English, and show people from around the world how wonderful Costa Rica is.
After learning English, Eduardo and a friend decided to try their luck and they took the public bus to Monteverde hoping to find work once they got there. They didn't have the money to return to Guápiles or pay for lodging and meals once they arrived, but due to their talent and the kindness of many strangers, Eduardo and his friend thrived. By the end of their first day, both of them had been hired as guides at the Monteverde Frog Pond.
Eduardo later went on to work in Tortuguero as a local Naturalist Guide and leading trips on the Atlantic Arial Tram where he has spent 6 years exploring the area with guests. He also has experience leading teenagers and teaching students about the environment. Although he says that he loves all of the forests creatures, Eduardo has a soft spot for birds, his passion.
When he's not guiding, Eduardo likes to play soccer, read and listen to music, but what he most enjoys is spending time with his wife Stephanie and their son Didack.