Tours of a Lifetime
National Geographic
Top 3, Best Values in the World
Travel & Leisure
Bernal Diaz For the Latest Feedback Click Here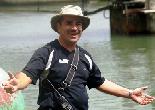 Born in San Jose, Costa Rica in 1960, Bernal has been guiding in Costa Rica for over 25 years, he has been guiding for Costa Rica Expeditions since December of 2010, we are delighted to be able to offer the services of this talented Naturalist to our guests.

Bernal.s grandfather, Eustaquio Jos, came to Costa Rica in the 1800.s from Spain. He built a new life selling encyclopedias and bibles. His business was so successful that he created a small fortune and even had the bragging right of being the first land owner in his region to buy an American car. Eustaquio fathered 22 children and had two wives which were sisters. After the passing of his first wife, the sister in law took over the care and feeding of the children and eventually she also took over the role of wife.

Bernal remembers his father as being fair and thoughtful, he fought nature and adversities to carve farm land out of the skirts of the Iraz volcano. In 1963 when the Iraz erupted, he ended up sacrificing everything he owned and moving his family to the region of Grecia, far from volcanoes, to start again. Bernal.s mother, was a grade school teacher, she supplemented the family income with egg laying hens and pigs. More importantly she was the source of family inspiration, a force of nature.

In thinking about where he got his yen for guiding, Bernal remembers a time when he and his younger brother dreamed of being explorers like Will Robinson from .Lost in Space.. At one point they build their very own space ship, his younger brother was the scientist and Bernal was always the ROBOT. The boys built their own Jupiter Spacecraft using wood scraps an old car tail light and various odds and ends from the shed, when finished they hauled their spaceship up into canopy of a Monkey Plum Tree, when all were aboard...ZAS. the branch broke and thankfully nobody was hurt.

After his Lost in Space stint, Bernal took to more terrestrial forms of exploration. Twenty-five years of guiding has contributed to a wealth of knowledge about birds, general rainforest ecology and history. His wit and spontaneity delight.s his guests with insight and bursts of laughter.

When he.s not guiding, Bernal loves to dive, play tennis and hike. He especially cherishes is him with his wife of 26 years, Diana and his three daughters Adriana a Biologist and the twins Tanya and architecture student and Tanya an artist.