Marcia Carranza For the Latest Feedback Click Here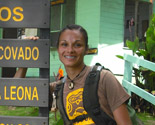 Marcia is a guide who goes by many different names. In Corcovado National Park she is "Oruguita" (inch-worm), after the way she climbs into the forest canopy, in Tortuguero National Park she is "Alumna" (schoolgirl) for her small stature, and at home with her brother and sisters she is "Pitín" (you'll just have to ask her).
Born in San Jose, through her career as a guide she has lived all over the country, including its most wild corners, spending extended time in Tortuguero, and six years on the Osa Peninsula.
Marcia's career in the outdoors started in environmental education, where she led student groups on visits to different National Parks, while at the same time completing coursework for a Bachelor of Biology with an emphasis on Ecology and Sustainable Development at the Universidad Latina de Costa Rica.
She first came to Costa Rica Expeditions in 2005, to apply for a position as a transfer guide. She says at the time that she didn't have the slightest idea what the job implied, but only that she wanted to work at CRE. She got an interview, but when Charlie Gomez, our head of guiding and Marcia's interviewer, told her it was time to switch to English, she nearly fainted. She could hardly speak a word! Charlie believed in her potential however, and decided to send her to work at Tortuga Lodge & Garden's front desk, in order to familiarize herself with both the language and the company. Marcia was thrilled at the possibility; her childhood dream had been to experience Corcovado and Tortuguero National Parks. Sure enough, after some time in Tortuguero, her next stop was Corcovado, where she furthered learning our distinct guiding techniques.
Confident in her English now, she enjoys meeting and learning from clients of different nationalities. Her favorite subjects to explore, learn and teach about are those regarding ecology and new projects in sustainable development. A great part of both her expertise and passion are Mangrove forests; she loves introducing visitors to that unique habitat and explaining not just its importance for the fascinating creatures that live there, but also to the world at large, as excellent absorbers of carbon dioxide.
In her free time she enjoys running, mountain biking and hiking in Costa Rica's forests, and when she slows down from that she has also been known to do some knitting. Marcia comes from a family of four, and she is the youngest. She currently lives with two dogs: Minco, a mix breed who she rescued as a puppy, and Tacho, a beloved Labrador.