Tours of a Lifetime
National Geographic
Top 3, Best Values in the World
Travel & Leisure
Kenya Mendez For the Latest Feedback Click Here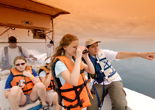 Kenya was born on September 23, 1978 in the port city of Puntarenas on the Pacific coast. Her mother Aida is from Puntarenas and her father Gerardo is from San Jose. Kenya grew up with her two brothers and sister in the town of Moravia.
She first started working for Costa Rica Expeditions as a Transfer Guide in 2000. She was going to the University and wanted to help her parents with the bills. After working for a season as a Transfer Guide, she then went on to work in the Operations Department where she was in charge of coordinating services for guests.
Given her love of the outdoors and of our guests, Kenya always gravitated towards the field and she was a natural choice to become a Naturalist Guides Assistant. This gave her the opportunity to accompany many of the most renowned guides in Costa Rica and learn the trade craft at their side. Years later, with a lot of field experience under her belt, Kenya began working as a Naturalist Guide at the Corcovado Lodge Tent Camp.
After taking a break from guiding to spend time with her daughter, Isabel, Kenya is now ready to go back to the field. She is looking forward to sharing her experience and enthusiasm with guests.
In her free time Kenya enjoys learning new recipes and taking care of her orchids but most of all spending time with her daughter Isabel, 4.