Tours of a Lifetime
National Geographic
Top 3, Best Values in the World
Travel & Leisure
arturo jarquin For the Latest Feedback Click Here

siamtico@hotmail.com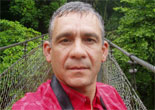 Arturo's passion and career is landscape architecture. He is a graduate of the Longwood Gardens Horticultural School's work-study program in Pennsylvania (1983-4) and also spent a year working at the Missouri Botanical Gardens in St. Louis (1987-8). Arturo, who worked for Costa Rica National Parks for three years (1979-82), not only has a strong background in horticulture and conservation, but also has a strong knowledge of the country's native bird species.

In 1996 Arturo completed Monteverde Lodge's gardens using mainly native species. His goal was to bring the forest and its wildlife right up to the Lodge's doorstep. Today's visitors enjoy the results of this work. During his twelve years as a guide for Costa Rica Expeditions, Arturo has led trips for the Nature Conservancy, Massachusetts Audubon Society and several horticultural organizations.

Through guiding he has realized a life-long dream of designing and managing a cloud forest reserve. His charisma, talent and love of nature caught the attention of a visitor from San Francisco in 1996 and she ended up financing a private reserve now managed by Arturo.