Nicaragua Castillo Exploratory
February 8-16, 2014
Minimum age: 12 years.
Maximum number of Participants: 16
Letter Codes: (B) Breakfast, (L) Lunch, (D) Dinner
Guide Codes: (NG) Naturalist Guide. (CG) Cultural Guide. (TG) Transfer Guide.

Introduction
At the end of the Contra Revolution Michael Kaye, Michael Kaye, Costa Rica Expeditions CEO & Founder, was curious if hostilities had ended along the San Juan River on the Costa Rica-Nicaragua border, not far from our Tortuga Lodge in Tortuguero National Park. So he decided to boat up the river as far as he might before gunshots or arrows would turn him back.
Nobody shot at him, so he kept going, until he came to the ruins of a very old fort on a bluff overlooking a series of rapids. It was Castillo, a 17th century Spanish garrison built to keep English pirates from sailing up the river to sack Granada.
The need for the fort ended in 1780, when Spain and Britain agreed to end hostilities. It should have become a ghost town, as there was no road, no usual access, yet folks stayed, and descendants are there still.
When Michael pondered the question last July with his long time friend, explorer and award-winning writer and filmmaker, Richard Bangs, who was visiting him at Tortuga Lodge, they decided to go find out. Richard and Michael invited their old friend, Grand Canyon Rafting Pioneer and OARS founder, George Wendt. Now they are inviting you, to join them on their little quest in February of 2014
Beginning at Tortuga Lodge in Costa Rica we'll boat up the Caribbean coast to Nicaragua, and then up the San Juan River (as pirate Henry Morgan did) to Castillo. Once there we'll explore why some people believe this is a hidden paradise from which they don't ever want to leave.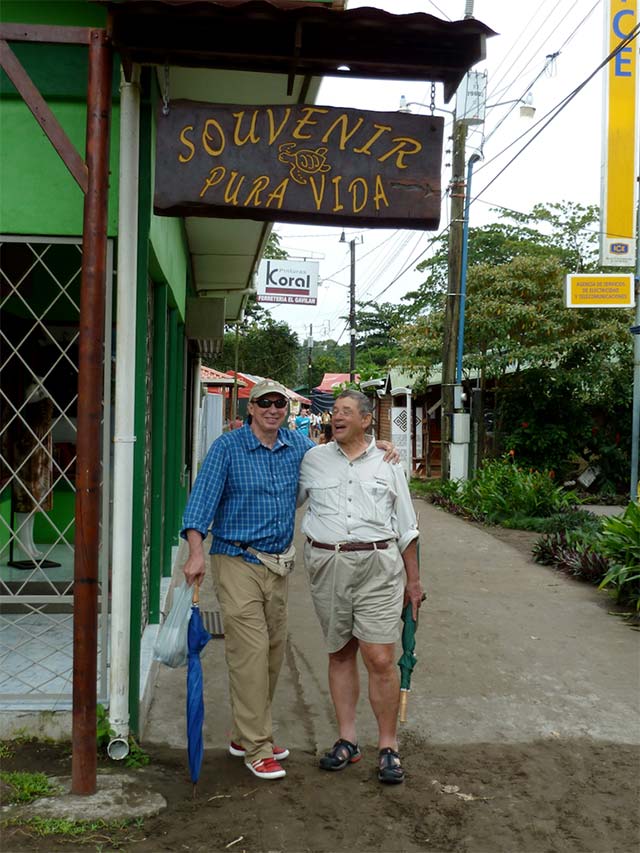 We'll make a first descent of the infamous Castillo Rapids, Class II, in inflatable kayaks, hike through the wildlife-filled rainforest, and get to know a culture vastly different than anything in our ken.
What should I do if I am interested?
DAY 01. 8 Feb 14: Arrival San José, Costa Rica (No meals) (TG)
Arrive at Juan Santamaria International Airport. After passing through Immigration you will see a Costa Rica Expeditions representative who will greet you and give you a sticker to facilitate clearing customs. Also, when you are exiting the building, you'll see a Costa Rica Expeditions guide, who will take you to your hotel.
You'll recognize your guide by their bright orange or yellow shirt. Also, he'll be holding a sign with your name on it. You can count on their being there — even if your flight arrives early, or arrives quite late — no matter how late. After all, it's our first chance to have you experience that every part of your vacation will go smoothly.
Overnight at: Hotel Studio. Standard Room (or similar)
DAY 02. 9 Feb 14: San Jose / Tortuguero (BLD) (NG)
After an early morning breakfast, drive 3 hours in an air conditioned van to the Atlantic Lowlands near Limon, where you will meet the boat for the 1 ½ hour boat ride to Tortuguero.
The last part of the drive, will take you through banana plantations. Until the 19th century, Costa Rica was very poor with an economy based on subsistence agriculture. Then the introduction of coffee provided a product suitable for export. Coffee was followed by bananas; both remain two of the most important crops in Costa Rica today.
The canals of Tortuguero provide refuge for many animals and birds and along the ride to Tortuguero you may have the opportunity to sight some of these animals and birds. Arrive at Tortuga Lodge mid to late afternoon. Overnight at: Tortuga Lodge and Gardens.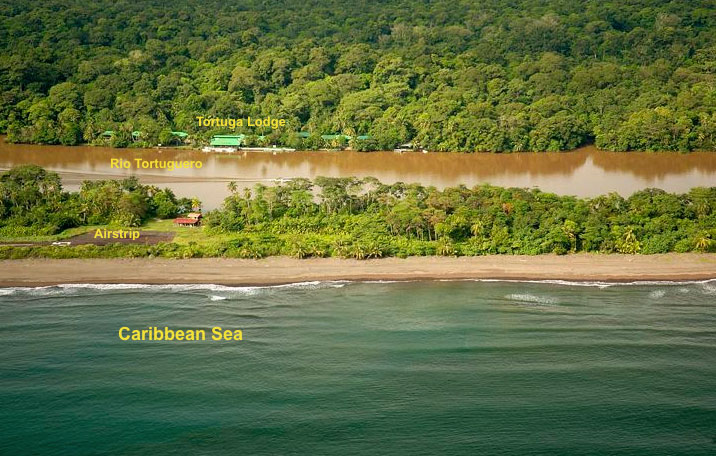 DAY 03. 10 Feb 14: Tortuguero (BLD) (NG)
There is evidence that native people visited Tortuguero during the 5 month nesting season to hunt the Atlantic Green Sea Turtle since way before Europeans arrived in the Western Hemisphere. By the mid 1800's there was thriving trade in turtle meat, oil and shells, much of which was exported to the United States and Europe.
But it was not until 1910 that Don Walton Martinez a sea captain of Afro Caribbean origin decided to settle permanently in Tortuguero, where he planted coconut palms as way to have a year around income. Despite his Spanish surname Don Walton's native tongue was Afro-Caribbean English and he named his new home, "Turtle Bog."
When Don Walton died in 1941 the entire population of Tortuguero consisted of his 7 children and their families.
In 1947 timber companies from the United States set up operations in Turtle Bog and the area was quickly transformed from what was essentially an extended family farm to a town. The people of Spanish origin who came to work in the lumber business called the place Tortuguero.
Then in 1954 Dr. Archie Carr, a zoologist from the University of Florida, Gainesville arrived in Tortuguero to study sea turtles and the town was on its way to another big change.
By 1972 the timber boom was over. Many people left Tortuguero. Those who stayed returned to turtles and coconuts for income and hunting and fishing for much of their food. A few found work helping Dr. Carr. Among them was Walton's granddaughter Miss Juney Martinez who was his cook. Today we will have lunch in her restaurant which she runs with the help of her son, Cloyd, her daughter, Noly.
It was also in 1972 that the first telephone came to Tortuguero. It functioned as a kind of concession in which the concessionaire, a no nonsense business-woman named, Sabina, paid the phone company and charged the phone calls by the minute---some people said by the second.
Then in 1975 Dr. Carr and Costa Rican National Park System Founders, Alvaro Ugalde and Mario Boza convinced the Costa Rican Government to create Tortuguero National Park. The coming of the park deprived the towns' inhabitants of their traditional sources of sustenance. By 1980 the population of the town had shrunk from an estimated 300 persons at the peak of the timber boom to less than 200.
Beginning in the early 80's attracted by the beauty of the park and its highly diverse and abundant wild-life vanguard travelers began to discover Tortuguero. Enchanted by what they found those early travelers spread the word. Now Tortuguero, still only accessible by boat or light air-craft, is a mecca for nature travelers.
The population has grown to some 1,700 inhabitants. The town's traditional problems due to isolation and poverty have been replaced by the challenges of absorbing the impact of over 100,000 visitors a year.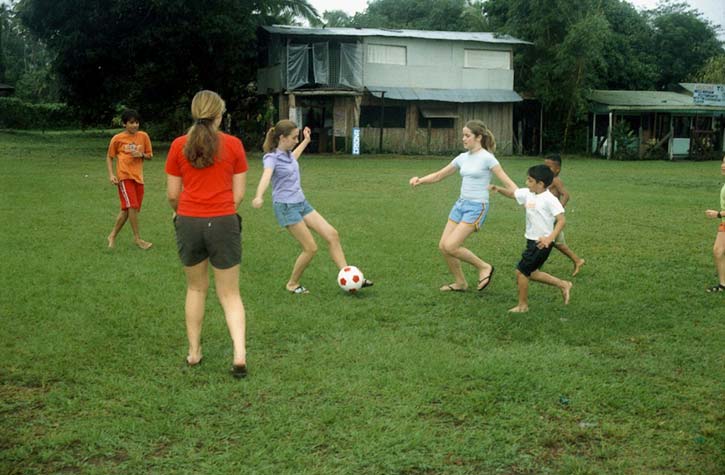 In the morning we will explore the rain forest creeks of the Tortuguero National park with your guide.
Originally intended to protect a major nesting beach of the Atlantic Green sea turtle, Tortuguero National Park now protects 51,870 acres, one of the most biologically rich and last large areas of tropical rain forests in Central America. Eleven habitats are found in the park. Among the wild-life you may encounter are three species of monkeys (Spider, Howler, and White-faced), Three-toed Sloths, river otters, caimans, iguanas, river turtles, Basilisk Lizards, Poison Dart Frogs, as well as more than 320 species of birds including all six species of kingfishers found in the new world, three species of toucans, eight species of parrots, and other neotropical species such as the Slaty-tailed Trogon, White-collared Manakin and Purple-throated Fruitcrow
After lunch at Miss Junie's, you can choose between relaxing at the lodge, optional Activities such as kayaking and deep sea fishing or help local kids learn English by participating in Tortuga Lodge's Word Adventure.
There will also be time to wander on the deserted beach (No swimming. Dangerous currents. Even more dangerous sharks.) where thousands of green sea turtles come to nest from June through October. During the nesting season, night excursions to observe the nesting turtles are included in the price. Overnight Tortuga Lodge and Gardens.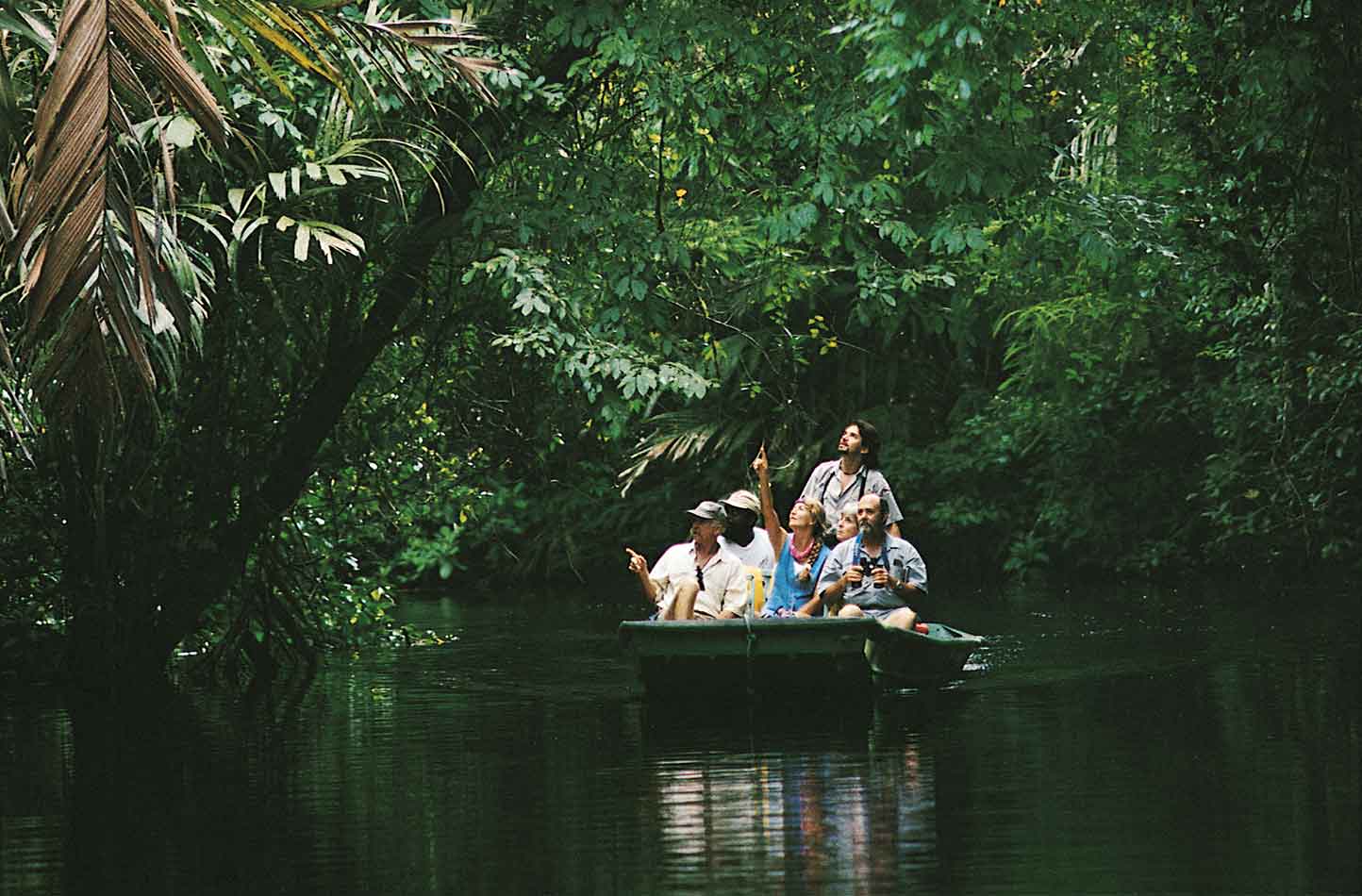 DAY 04. 11 Feb 14: Tortuguero-Castillo (BLD) (NG/CG)
Today we are going to leave Costa Rica and enter a very different world. Our voyage starts on the Rio Tortuguero continues on the Rio Penitencia, and then on to the Rio Colorado until finally we arrive at the confluence of the Rio Colorado and the Rio San Juan. Turn right you are still in Costa Rica. Turn left you are at the Nicaraguan Border Outpost of Delta where we will clear immigration and customs.
From the second the boat enters the San Juan you are in Nicaragua and on what might be the only international border river in the world that is all in one country. How that came to be is both fascinating and controversial. We'll talk more about it as we sail up the San Juan.
As our boat takes us up the San Juan its fun to think of the adventurers who went before us. The infamous pirate Henry Morgan sailed up these waters in 1665 on his way to his first fortune sacking Granada. More than a century later, then Lieutenant Horatio Nelson, of Trafalgar fame won his first battle here. Roll forward another 80 years and Cornelius Vanderbilt's Accessory Steamship Company transported 2000 passengers a month on their way from the Eastern U.S. to the gold fields of California.
In the mid to late afternoon we will arrive at Castillo de la Inmaculada Concepción. Here we will spend the next two nights. Overnight Hotel Victoria.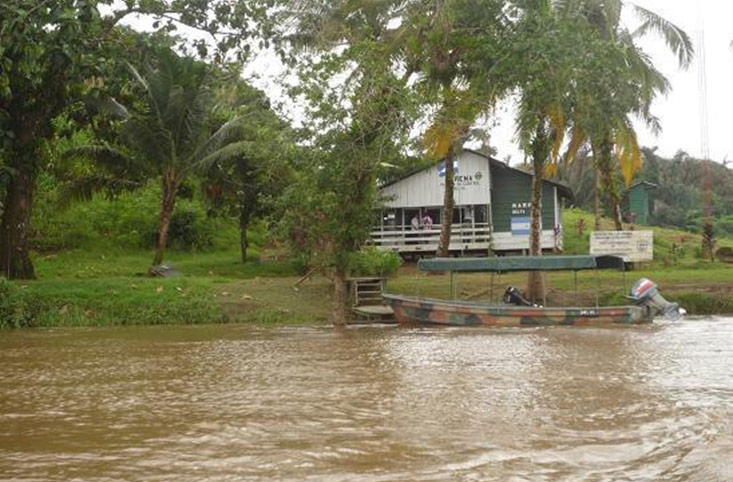 DAY 05-07. 12-14 Feb 14: Castillo (BLD) (CG)
Castillo actually owes its existence to Henry Morgan and several other English privateers who used the San Juan as route to sack Granada between 1665 and 1673. To stop the marauders the Spanish captain Fernando Francisco de Escobedo built a fort on bluff above the only rapids on the San Juan River.
After taking Castillo, Nelson had just succeeded in hauling his ship past the rapids and was ready to proceed to Granada, when a messenger arrived with new orders. Great Britain had made peace with Spain and Nelson was ordered to return to the English colony of Jamaica.
With the end of hostilities between England and Spain Castillo lost its reason to exist. Yet when gold was discovered in California in 1849 and thousands of gold seekers a month passed through, the town had not been abandoned. Castillo flourished until 1858 when Vanderbilt stopped running the route in return for $40,000 a month from the United States Mail Steamship Company which operated the much longer and more torturous Panama route.
Once more Castillo had lost its reason to exist and once more the Castillans stayed put.
We will have 3 entire days to explore Castillo and the surrounding area. As well as visiting the fort, we will visit the towns of Gavillan and Pintada about a half hour walk from Castillo, where you will have an opportunity to meet the people and participate in community service projects and hike in the rain forest.
The intrepid will have a chance to conquer the infamous Castillo Rapids in inflatable kayaks. We'll Overnight at Hotel Victoria.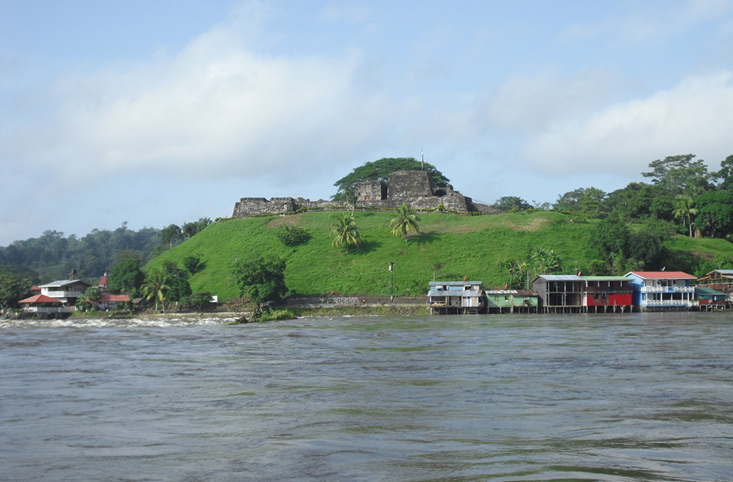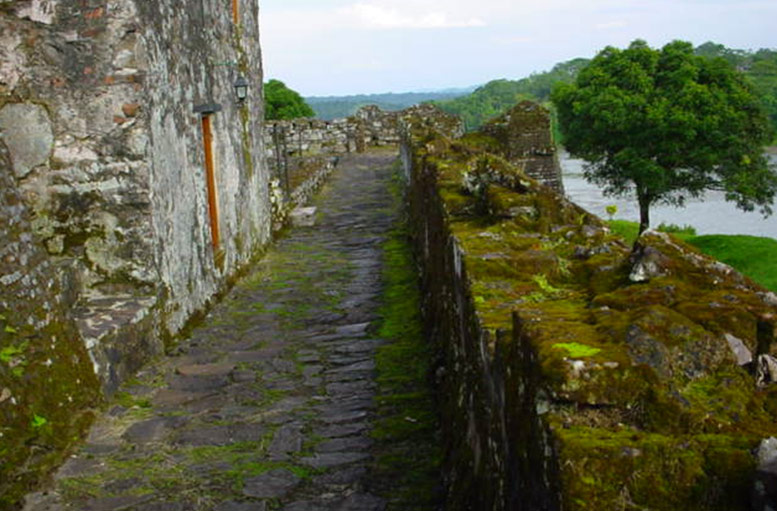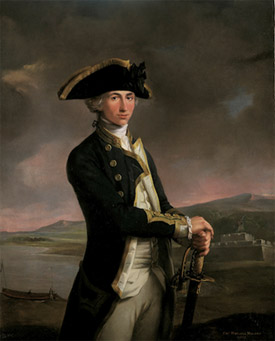 DAY 08. 15 Feb 14 : Castillo-Managua (BLD) (CG)
After breakfast we will board a public boat
for the hour and half trip to the city of San Carlos where Lake Nicaragua empties into the San Juan River. Here we will board a private air-conditioned van for the 4 hour drive to Managua. For most of this journey we will be traveling through the department of Chontales, the heart of Nicaraguan cattle country, where, according to a Nicaraguan saying, "the rivers run with milk and the rocks are made of cheese."
We will stop for lunch in Juigalpa, founded on April 24 1668 by virtue of a land grant from the Governor General in Guatemala to one don Jerónimo de Villegas. According to a church document by 1754 the town had "224 persons of confession and communion." How many non-church goers is lost to history. In any case Juigalpa is now a city if over 55,000 inhabitants, and, it is also the only place to stop for lunch between San Carlos and Managua.
We arrive in Managua by midafternoon in time to take a short tour of the city.
Overnight Seminole Plaza Hotel.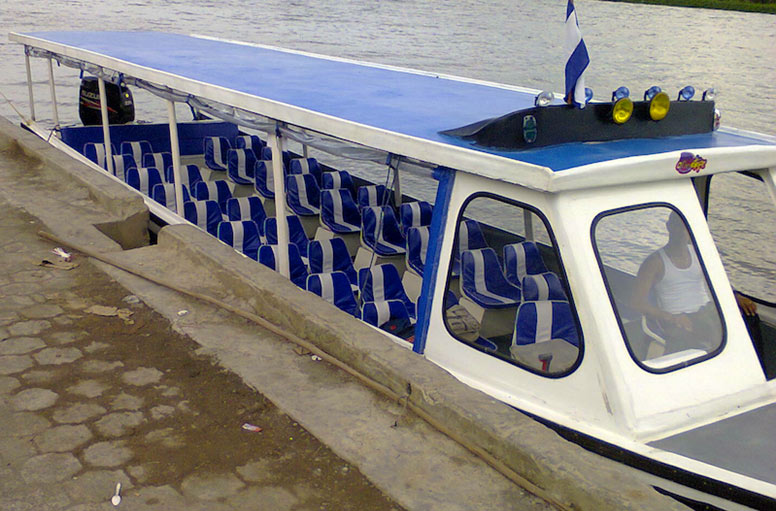 DAY 09. 16 Feb 14 : Depart
Transfer to Augusto C. Sandino International Airport for your flights out of the country.
Price per person in double occupancy:$ 3,723.00
Single Supplement: $ 287.00 May not be available in El Castillo.
Included in Price per Person:
All Lodging. All meals from breakfast on Day 2 through dinner on Day 8. All transportation within Costa Rica and Nicaragua. All hotel taxes and entrance fees to national parks, museums and places of interest. Nicaragua entrance tax. The services of professional bi-lingual guides throughout. Gratuities for porterage at hotels and Juan Santamaria International Airport on Day 1.
Not included in Price per Person:
International airfare. Costs of obtaining passports, visas or tourist cards. Personal expenses such as room service, beverages and laundry; personal communications charges. Sightseeing or tours not specified in the itinerary. Personal insurance coverage including cancellation insurance, strongly recommended. Gratuities for Guides, drivers, boatmen and porterage at Augusto C. Sandino International Airport on Day 9.
What should I do if I am interested?
---
HOTEL DESCRIPTIONS
Studio Hotel
San Jose, Costa Rica
A new Boutique Hotel that was designed to provide the business and leisure traveller with lodging in a modern, comfortable, and unique setting surrounded by lots of Art. Admire works of recognized Costa Rican artists' throughout hall ways and common areas. It is located in the town of Santa Ana, a fast growing area on the west side of San Jose, which still has small town charm now combined with business district flair and only 20 minutes away from the Juan Santamaría International Airport. It combines a fresh contemporary space with high safety and Eco- friendly standards. The hotel has 82 rooms including 5 superior studio rooms and 2 junior suites. There are two restaurants on site that offer room service and several nearby dining options. All rooms feature AC, safe and private hot water showers. The facility offers a business center, roof top pool and lounge area, gym and parking lot. Free Wireless Internet. Breakfast buffet included. Nonsmoking facility. Warm weather. Tel: 001-506-2282-050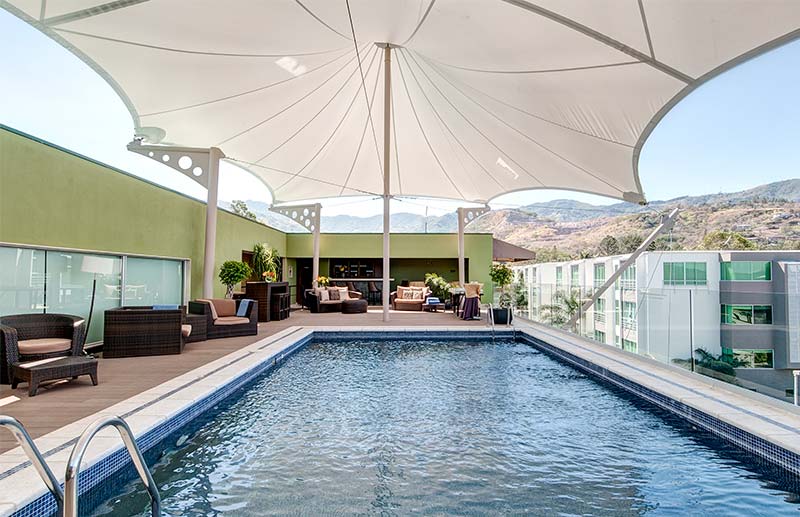 Tortuga Lodge & Gardens
Tortuguero, Costa Rica
Owned and operated by Costa Rica Expeditions, Tortuga Lodge & Gardens, situated on 146 acres of private land on Costa Rica's northeast Caribbean coast, was our first hotel. It is now our newest hotel. Everything we have learned about designing nature lodges over the last 25 years has gone into the remodeling of Tortuga Lodge. What we learned can be summarized in three words: "Reflect the place." The lodge has 14 River View Downstairs Terrace Rooms, 12 Upstairs River View Balcony Rooms and 1 River View Penthouse Suite.
The Lodge's restaurant starts at the river dock and reluctantly moves inland. Our kitchen prepares a daily fixed menu delighting our guests with local dishes served in creative ways. Meals are served family style at your table. We are happy to accommodate special requests.
Designed to blend into the river environment, the infinity pool features an environmentally-friendly purification system that uses an undetectable amount of salt instead of commercial chlorine. The water does not irritate the eyes.
Important Note: Tortuga Lodge & Gardens is a NON-SMOKING lodge. If guests wish to smoke, the only place this can be done is in designated outdoor areas.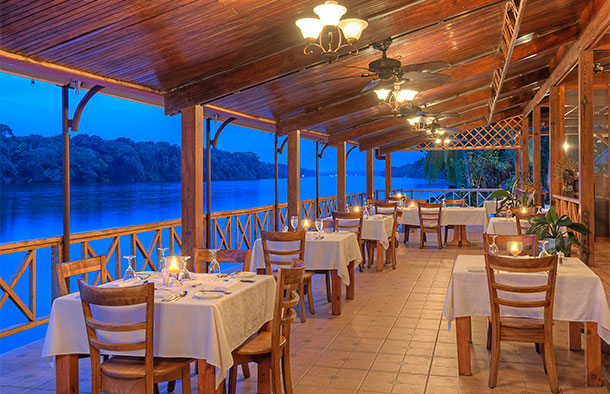 River View Downstairs Terrace Rooms
Located on the ground floor, Downstairs Terrace Rooms face the Tortuguero River and have the advantage that you don't have to climb 15 steps to get to your room.
Rooms have almost as much window space as wall space; all windows are screened, they do not have glass allowing guests to listen to the sounds of the rainforest. Rooms do not have air conditioning. These rooms have a tile floor, a standard height ceiling and are slightly less breezy than the Upstairs Rooms. Multiple bedding configurations are available.
All rooms have a private shower with solar heated hot water, a ceiling fan, in-room safe, alarm clock, free wireless internet, hair dryer, two in-room wicker chairs and a small table.
Each room has a front porch sitting area and hammock.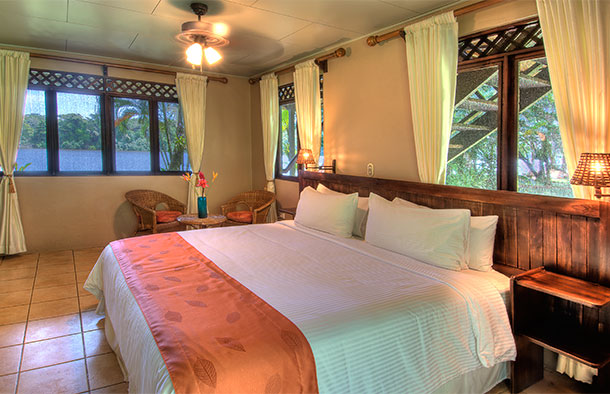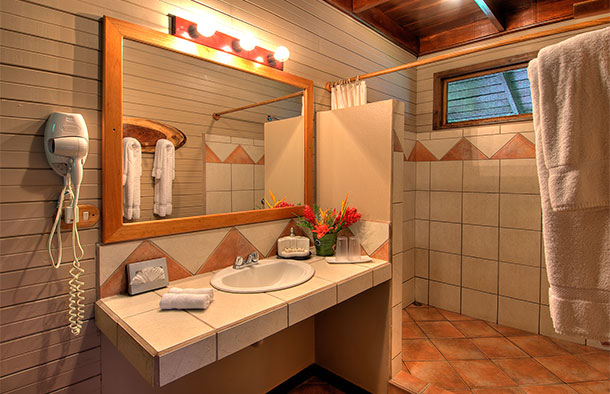 Hotel Victoria El Castillo
El Castillo, Nicaragua
Hotel Victoria sits right on the San Juan River in the town of El Castillo. This simple but clean hotel is family run and consists of 15 rooms equipped with AC, private bathroom with hot water and cable TV. WIFI is available in rooms and common areas and if you don't want to bring your own computer, there is a PC with internet connection available for guests. Laundry service is available.
The terrace restaurant has a view of the San Juan River with a menu that includes the classic fish dishes of the San Juan, the Guapote (Rainbow Bass) and Róbalo (Snook) as well as their specialty, the Giant River Shrimp when in season.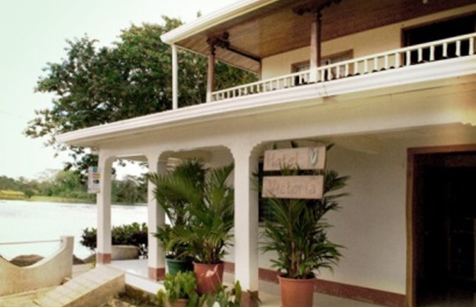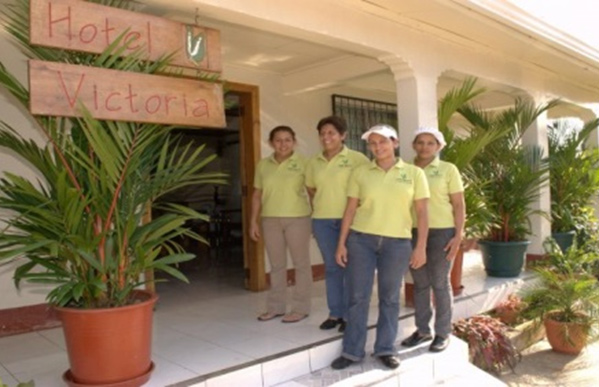 Seminole Plaza Hotel
Managua, Nicaragua
Located in the heart of Managua, Seminole Plaza Hotel is close to the Sandino Monument, the Carlos Roberto Huembes Market and the Dennis Martinez National Stadium.
The 84 air-conditioned guestrooms at Seminole Plaza Hotel include minibars and safes. Beds have signature bedding, down comforters, and down blankets. Guestrooms have city or pool views. Each room has a 32-inch flat-screen TVs equipped with digital channels and free movie channels. All rooms provide desks and direct-dial phones.
Bathrooms offer shower/tub combinations with deep soaking bathtubs and handheld showerheads. Bathrooms also include makeup/shaving mirrors, hair dryers, and complimentary toiletries.
For a surcharge, guests can use the in-room wireless and wired high-speed Internet access.
Additional amenities include complimentary bottled water and irons/ironing boards
Hotel Features
Seminole Plaza Hotel has an outdoor pool, a health club, and a sauna.
Wireless and wired high-speed Internet access is available in public areas (surcharges apply) and an Internet point is located on site.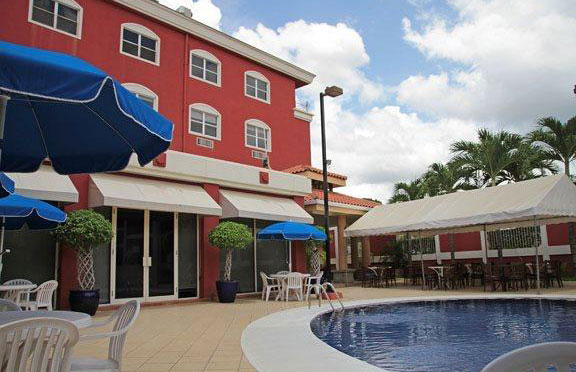 What should I do if I am interested?
↑ Back to Top