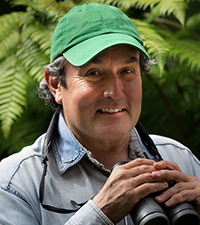 carlos gomez


Carlos, or as he is better known, Charlie, started his birding career working with Gary Stiles, the author of Birds of Costa Rica. He has guided birding and other natural history groups for Costa Rica Expeditions for two decades. Before that, he was Station Manager at the Organization for Tropical Studies' La Selva Biological Station. Called "legendary" in the Washington Post, groups he has led include Henderson Birding, Audubon Naturalist Society and Noble Proctor.

"Birding is my number one love – after my family of course. Guiding lets me share my ideas about conservation with other people. Sometimes I think I am a frustrated professor, but my job as a guide is much better than sitting behind a desk, and it's a great way to meet people and share my knowledge with them."

An excellent naturalist and avid birder with a B.S. in biology from the University of Costa Rica, Charlie's tireless enthusiasm on the job has made him our most requested naturalist guide. He is often asked by our clients to guide their trips in other countries. Charlie was born on Dec. 29, 1955. When he's not guiding, Charlie works in his garden, making it a haven for birds, and relaxes with his family. He and his wife, Vicky, have three adult children: Laura, Sergio, and Silvia.


TESTIMONIALS:

Aug. 10, 2009 "(Our guide) helped us see so many animals and educated us on so many different things. He really opened up our eyes to the beauty."
Q. What happened that fascinated, delighted, inspired, amazed or enlightened - something that might become a lifetime memory? Going through Monteverde Reserve with Carlos Gomez! He was great! He helped us see so many animals and educated us on so many different things. He really opened up our eyes to the beauty. Just the feeling of being so close to the beauty of nature. Costa Rica is really mother nature in all her glory!

Q. What surprised you by going beyond the hopes you had based on our site or what you read and heard before hand? How fantastic everyone's English was. Our Spanish was pathetic and I was embarrassed. Everyone on the trip was very fluent and those that were less so were still better than my husband and I!!

Q. What fell short of your expectations? NOTHING

Q. What issue beforehand almost decided you to not travel with us? Nothing

Q. What were the few most important things that decided you to go with us? You were written in Frommer's travel book as being the most reliable guided tour. Jeff Vargas responded to my e-mails as we decided on various destinations.

Q. What Costa Rica Expeditions people exceeded or fell short of your expectations, and in what ways?
 Wow, they were all great! Carlos the Naturalist in Monteverde. Our guide at Arenal Hanging Bridges - her name may have been Alma, I can't remember. All of the wait staff at each hotel. The main receptionist at The Lost Iguana. Jorge at Monteverde Lodge and Gardens and the woman at the front desk there. Sorry I can't remember her name. Will at the Borinquen Resort, who took us horseback riding. All of our drivers. The boat transfer driver and boater, the four-wheel-drive vehicle driver to Monteverde. Our driver to the hot springs.

Q. What would you say to a friend if you wanted to persuade them to choose us when they come to Costa Rica? If you are looking for a group that is a little more expensive, but very dependable and takes the hassle out of planning the details, you should use them. They set up all your activities and are thorough when finding out how adventurous you are. They set up all the transportation and are very safe. Their English is very good. They seem to know how to plan an awesome trip and make a very good itinerary.
- Christina Fairbairn
Feb. 28, 2009 "I'm reasonably certain that traveling with Costa Rica Expeditions has spoiled me for life."
I'm including a letter below and a link to my blog at http://toryporter.blogspot.com where I wrote day-by-day accounts of our trip (January posts) as well as a summary post (posted this month and revised today). If you want to link to my blog, let me know and I can do some further editing to include more rave reviews and references to Costa Rica Expeditions. :-)

Letter of Appreciation to Costa Rica Expeditions: I was fortunate enough to be invited along on a private tour of Costa Rica that was led by Mark Garland and arranged through Costa Rica Expeditions. Mark Garland is an experienced Audubon guide and friend of many years to several people in our group. We were so lucky to have Niño Morales as our bus driver for the entire trip because he is an excellent bird spotter and has such sharp eyes that we saw many birds we might have otherwise missed. We were also very lucky to have Carlos (Charlie) Gomez join the tour as our naturalist during the second week of our trip. It was impossible to stump Charlie because he knew the names of everything! Plants, insects, butterflies, birds, animals... What a wealth of knowledge he possesses.

This was my first time doing a group tour, and I'm reasonably certain that traveling with Costa Rica Expeditions has spoiled me for life. This was easily the most relaxing vacation I've ever had because I didn't have to worry about any of the details. Lodging, food, marvelous tours... Everything was planned out and handled beautifully. I've fallen in love with Costa Rica as a result of this trip and hope to return again ... And when I do, I'll check with Costa Rica Expeditions before doing anything else! Thanks so much for the wonderful trip.
- Victoria Porter
Aug. 11, 2007 "I will let everyone know what a great organization you are."
I recently visited Costa Rica. When I discovered that I had lost my wallet, the guide, Charlie Gomez, was prompt in his actions and kept me informed of the efforts made to retrieve it. His efforts and kind support was most appreciated. When found, the efforts of the driver, Nino, to retrieve it were also appreciated, and the wallet would be returned before I left Costa Rica. I also wish to thank the staff at Selva Verde, who took the time to search for it and forward it.

The birding trip was wonderful, well organized and otherwise went very smoothly. Thank you very much. It was memorable. I will certainly let everyone know what a great organization you are and recommend the guides.
- Pauline Metras
Feb. 14, 2006 ''Thank you for your diligence to safety issues.''
Dear Michael: Happy Valentine's Day! 'Happy' to report again (21) a successful Henderson Birding trip with Carlos (Charlie) and Nino. Comments range from "incredible" to "best trip of my life" to "great" to "I came home refreshed " (this was from the 81 year old)!!! Thank you for your diligence to safety issues and for hosting their farewell party! Makes it very special - they came home alive and well fed and entertained!!
- Karen L. Johnson, Preferred Adventures Ltd.
Jan. 26, 2006 ''Your slogan, 'Legendary service, unforgettable memories,' is earned in every way.''
May I take this opportunity to thank you all for organizing our trip; the whole experience was wonderful. I cannot praise Charlie (Carlos) and Nimo enough for all the hard work they put in on our behalf; it was faultless in every way. Special thanks are due to Charlie and to your staff, who managed to extract our lost cases from Delta Airlines and to fly it out to us at Tortuga Lodge. This was above the call of duty, many thanks to you all.

Tortuga Lodge was superb in every respect, from the manager, who made us so welcome when we arrived, to Norton our boatman during our stay, who were so courteous and who made our stay so enjoyable.

Special thanks are due to your chef at Tortuga, whose meals were almost the highlight of our stay; the presentation and taste were outstanding. This in no way decries from the rest of the hotels and ranches that we stayed at during our trip, the service and quality were all of a very high standard, and we enjoyed every minute of it. Your slogan, "Legendary service, unforgettable memories," is earned in every way. Once again may I thank you all for all your hard work in making this trip so memorable.
- Dick & Gloria Harding, UK
Nov. 30, 2005 Sierra Club trip with Master Naturalist Guide Charlie Gómez
Dear Charlie (Carlos): The trip was super and I thank you, Nino, and Costa Rica Expeditions for doing so much to make it turn out so well. What a combination for a leader to be working with! It was an absolute privilege to be part of such a team. From the ease and thoroughness of the planning procedure to the remarkable bird and animal sightings that we enjoyed, everything worked beautifully, in spite of the rain. I have been hearing from many happy participants that they totally enjoyed the trip. The five people new to Sierra Club trips and to group trips in general, seemed to be particularly enthusiastic about the total experience.

Thank you for dealing with the delayed luggage and lost passport with such gentleness and efficiency. Emily is a very experienced international traveler and leader and was distressed to have been the one to cause extra fuss and bother.

I have to tell you that one of my Sierra Club friends, Mary O'Boyle, who has a place at Monteverde, reported that they had had 34 consecutive days of rain and she had been concerned about our trip. I think we were very lucky that the trip was not impacted more by the unusual weather. Your open discussion of the conditions with all trip members helped to make them aware of the challenge as well as understanding of the decisions that we had to make.

You must be totally exhausted after getting up every morning at dawn for bird walks or early departures, but you must know from the continued participation, how much it was appreciated. The enthusiasm that you and Nino bring to finding new birds for the group is wonderful. I think everyone will take home, as a special trip memory, your delight at the discovery of the "Cotinga tree" and of your continued upgrading of the "best bird of the trip".

We all appreciated your in-depth knowledge on such a variety of subjects that we explored in our conversations. I had done quite a bit of pre-trip study and was prepared to be able to talk about some of the social and conservation issues that affect Costa Rica, such as banana plantations, poaching, squatters, and over production of coffee; but my information was probably about ten years out of date and I became reluctant to say much more than to ask leading questions. I think we were all a bit amazed by the more current issues that you raised about pineapple culture, pesticide use on mangos and other crops, fern growing, and changing methods of coffee production. I would like to learn more and to be able to find reference sources to investigate so I can pass on suggestions to the appropriate Sierra Club conservation committee. Could you steer me in the right direction? I especially want to learn details about relatively recently changes since even my most "current" references seem to be very dated. More later, and again, many, many thanks.
- Carol
Nov. 23, 2005 ''Without a doubt, it was the most impressive birding experience that we have had.''
My husband, Eldon, and I have just returned from a Sierra Club sponsored birding trip to Costa Rica. Without a doubt, it was the most impressive birding experience that we have had largely because of the outstanding leadership and attention that Charlie (Carlos) Gomez provided us. We have had many birding guides but none as skilled as Charlie. Additionally, our driver, Nino, kept us safe and was exceptionally helpful in spotting birds.

The main purpose of our trip was to focus on birds. With Charlie's expertise, we were able to see the most incredibly beautiful birds imaginable. I still have to pinch myself as I look at photos of the Resplendent Quetzal, Scarlet Macaw, Spectacled Owl (and many, many more) and realize that I have actually seen these birds in person!

Charlie and Nino were masters of hearing and spotting the birds and having the patience and ability to assist the group in locating birds once the scopes were quickly in place. All of this was done with the utmost respect and courtesy to all of the participants in our group.

We traversed the country for 18 days from highlands to lowlands in all kinds of weather. The scenery in Costa Rica is spectacular. In addition to finding almost 400 species of birds, we also learned so much more from Charlie. He gave us valuable information about the history and culture of the country. We also learned about all kinds of plants, butterflies, mammals and reptiles. This was not just a bird trip; it was a wonderful education about Costa Rica. It makes me eager to return.

I could not close this without mentioning that Charlie set the tone for the group with his polite, patient manner. He was the catalyst for the compatibility of the group. Nino, with his ready smile and his excellent skill in driving was always helpful and very courteous. He made us feel very safe.

I also want to mention Selena Solis and the excellent pre and post-trip preparations that she did for us. Thanks to Costa Rica Expeditions for making our trip so enjoyable. We will certainly recommend you to anyone traveling to your beautiful country in the future.
- Linda Francis, WA
Jun. 3, 2005 "Once at the (Monteverde) lodge, I was impressed with everything."
Michael and Natalie: …I loved the tour. First, I had James Lowis on the ride up to Monteverde. He made the trip pleasant and we found lots of birds along the way. I certainly count him as a new friend. Once at the lodge, I was impressed with everything, the building, the bed, the grounds, the staff, and, especially the chiefs.

The hotel I was at in Alajeula, Martino Resort, had offered very nice Italian food, but hadn't begun to suggest what I could expect at Monteverde Lodge: one wonderful appetizer and entrée after another. …The restaurant at the Monteverde Lodge could easily thrive in San Francisco - my highest complement! The service matched the food - consistently excellent.

But ultimately, I came to see the jungle. Carlos, my guide, was great. We saw three Resplendent Quetzals within minutes of entering Monteverde – which, I certainly wouldn't have seen without his eyes and his 20x scope. And, of course, we saw many other birds, and the trees and plants of the jungle itself. The trip was wonderful, and probably the best buy I've ever gotten for my vacation money. I look forward to going somewhere else with you guys in the future - to other jungles and down wild rivers.
- Paul Harmon, CA
Apr. 14, 2005 "It was great! ...due to the excellent leadership of Charlie Gomez and our driver, Nino."
Dear Michael and Natalie: I want to take time to mention our recent Cincinnati Nature Center trip to Costa Rica with International Expeditions, Feb.19-Mar. 3. It was great! ...due in large part to the excellent leadership of Charlie (Carlos) Gomez and our driver, Nino.

Charlie has incredible patience in making sure everyone who wanted to see a bird actually had the time to find it. He would work with each person to help them find the hard-to-see species. He is also a good leader for general natural history as he offered all sorts of information on trees, butterflies, mammals and reptiles that we observed throughout the trip.

Charlie has a great ear in identifying various bird calls for the group as well. And, if there was a particular bird that the group wanted to see, he knew exactly where the best place to see it would be. I have taken groups across the globe, and he's one of the best!

Nino was an extremely courteous driver, and the group always felt safe with him, even when the other drivers on the road were driving like crazy Ticos! Nino also carried the scope and tripod when we were on the hikes. This was a great aid to many of the participants who had a challenging time finding the birds. Nino has amazing vision, and often he would find and see birds even before Charlie knew where the birds were located. Charlie and Nino also showed a great respect and admiration for one another. It was easy for the participants to see that Charlie and Nino were not only colleagues, but also good friends. We enjoyed hearing them laugh together and sharing funny situations with us.

The group became very fond of both these men, and this speaks well of their abilities as professional guides, representatives of your company, and delegates for Costa Rican tourism. Many of my participants were first time travelers into the tropics. I explained to them that they would now be spoiled in comparing future leaders because they had one of the best leaders there is in Charlie, and the best driver/guide there is in Nino!

When we come back to Costa Rica on some future safari for Cincinnati Nature Center, I will not come unless we can have Charlie and Nino guaranteed as our guide and driver -- they're the best!
- Bill Creasey, Cincinnati Nature Center
Jun. 4, 2003 "I think that Costa Rica has placed a spell over us."
It's almost 2 weeks since we departed Costa Rica (May 23) and we are ready to return! The itinerary we did with Carlos Gomez (Charlie) and Nino Morales (May 1-14) was super and our group of friends had a great time. Of course, it would be difficult not to have a great time with Charlie and Nino.

Jim and I look on Charlie as another brother - we have developed a wonderful friendship with him. Needless to say, I am already e-mailing with Marco Madrigal about a future trip. He is really an asset to your business, but I'm sure you are aware of that. I think that Costa Rica has placed a "spell" over us. We thoroughly enjoy our birding trips there and Jim has almost 8 hours of raw video footage to edit this summer!

Fortunately Jim and I were able to stay a week longer than the group and Marco made reservations for us at Arenal as well as for us to use Interbus to get around. That worked very well also.

We were sorry to miss you the afternoon we visited the CRE office, but I feel certain that Natalie has given you the gifts we left for you. How interesting to find that Natalie was born in Colorado which where we presently live! Hopefully we'll get to see her again whenever she has time to visit her brother.

Jim and I would like to wish you continued success with Costa Rica Expeditions. We have several friends and acquaintances who have planned trips with your company after having talked to us or seen the video of our 2001 trip. In our opinion, CRE does things right! Thank you for being there when we first began to investigate coming to Costa Rica.
- Ruth Marie Lyons, CO
Feb. 14, 2003 "The most educational and rewarding (trip) that we have ever been on."
In January my wife, Marlene and I had a great adventure in Costa Rica on Carrol Henderson's Birding Expedition. We listed 315 new life list birds. The best part of the trip however was spending two weeks with Carlos Gomez (Charlie) and Marcos. The ability of Carlos to hear and find the many birds in the area is totally unbelievable. His knowledge of the animals, plants, geography and history of the area made the trip the most educational and rewarding that we have ever been on. Our driver, Marcos was also great. He was always cheerful and mindful of our comfort and feeling of security on the road. He also had a great eye for birds and sighted many while still keeping his eyes on the road. These two and of course Carrol and Ethelle made this the trip of a lifetime. Thank you and your staff for the great experience and hope to see you again soon.
- Ray Simon
Jan. 9, 2001 "You were great and made the trip unforgettable."
To Carlos Gomez "Charlie": I want to thank you very much for the care you took of all of us especially mom. She has not stopped talking about the trip since we've come home. Every conversation we have with people about the trip your name comes up every other sentence. I'm sure everyone must be getting tired of hearing us talk about you, but you were great and made the trip unforgettable. I really feel bad that not only did we take you away from your family for Christmas but also your birthday. Happy belated birthday, Charlie.

I am also writing because I have decided to teach my preschool class about Costa Rica when we do our Children Around the World theme in March. Since your wife is a teacher I was wondering if she could help me out with information regarding children. I am interested in knowing about any children's folk songs, games, etc. that is native to your country. Also do you have a national anthem, pledge of allegiance to the flag? If you can help me out with any information I would really appreciate it.
- Sandy