Legendary Service, Unforgettable Memories®



| | |
| --- | --- |
| | RAPIDS AND RAINFORESTS |
By Michele Ostrove,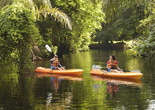 Costa Rica is one of the smallest countries in the Americas (it's roughly the size of Massachusetts), but don't be fooled by its modest size. Within this tiny footprint, you'll find one of the most richly varied geographies in the world – including lush rainforests, cascading rivers, pristine beaches, towering mountains, and five active volcanoes. Thanks to a variety of fertile microclimates and a unique position as a land bridge between North and South America, it's also a virtual melting pot for flora and fauna; many exotic species evolved here, and migrating animals are pulled here as if by some magnetic force. So, too, are nature-loving families looking for the vacation of a lifetime.

With so much to experience, you'll need a specialized outfitter that can customize your trip. Costa Rica Expeditions (www.costaricaexpeditions.com), a pioneer in adventure travel and ecotourism, is one of several local companies that understand the tricky balance between staying still for too long and trying to do to much. Simply tell them how much time and money you want to spend, who will be participating, and how active you want to be – they'll take care of the rest.

A typical itinerary begins with whitewater rafting (kids' ages will dictate the river and thrill factor) and moves on to Tortuguero National Park, a protected tropical rainforest that's home to more than 350 species of virds and mammals. From July to October, you can watch the giant Green Sea Turtles make their way ashore, lay their eggs, cover their nests and return to the sea. You might also visit Arenal (an active volcano near the charming town of La Fortuna), hike in the Monteverde Cloud Forest Reserve or enjoy some beach time on the Pacific or Caribbean coasts. With the help of boats, kayaks, horses, ziplines, surfboards, snorkels and your own trusty two feet, you'll come face-to-face with almost every kind of creature imaginable. And, if you're lucky, you may even catch a glimpse of that most rare specimen: the genuinely cheerful teenager.