By Richard Bangs,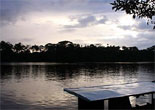 (Article appended.)
TURRIALBA, Costa Rica — Adventure across the ages — in style, purpose and destination — has rarely suffered stasis. Almost by definition it is in a constant state of evolution, a complex rolling skein of commerce, geopolitics, faddism and shifting belief systems.
Throughout this span, a few destinations have found continued currency and attraction, with an array of adventure activities, low prices, and political stability. Northern Queensland in Australia is one, with its Great Barrier Reef diving, rainforest rafting, and superb hiking and biking in year-round good weather.
The other great evergreen adventure destination is Costa Rica. Though my job takes me around the world seeking adventure, the one place I return to for my own busman's holiday is Costa Rica, not just for its well-known attributes of long-standing democracy, model conservation efforts, and panoply of adventures; but for the fact that most Costa Ricans genuinely like Norte Americanos.
I recently spent a week in Costa Rica with longtime friends including Michael Kaye, owner of one of the original Latin American adventure companies, which he founded in 1978. We rafted the Class-IV Pacuare River (which he pioneered), surfed the Pacific coast, biked some 80 miles through the rainforest, deep-sea fished the Caribbean, and went wildlife, whale and bird watching.
Kaye, who owns a chain of ecolodges here, struggled at first to attract foreigners to what was then a lesser-known banana republic. He attributes the fugitive Robert Vesco for putting the country on the map, and saw his business, and all the boats of adventure travel, lift for the next 20 years as more and more discovered the qualities of Costa Rica, including its proximity to the United States, its paradisiacal weather, and comparatively low prices.
The former railroad town of Turrialba, once nicknamed "the inland port" for its abundance of prostitutes, is now known for its abundance of adventure activities, especially whitewater rafting and kayaking, minutes away on the Pacuare and Reventazon Rivers. It has bred a generation of Costa Rican adventure guides who competently and enthusiastically delight visitors, piloting them down wild rivers, up volcanoes and through primary rainforests.
So, while risk is a key to adventure travel — not everything will run like a Swiss train, and there may be scratches, sunburn, sore muscles, and insect bites — there is also a desire to manage the risk dosage. And places like Costa Rica that are affordable, diverse, exotic yet close, beautiful and friendly to Americans seeking adventure become popular picks, at least for now, for those who choose adventure.
Richard Bangs is executive producer of Richard Bangs Adventures for
Yahoo (adventures.yahoo.com).