By Marcel Theroux,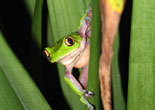 From a tiny platform 110 feet up an enormous stinking-toe tree, I had a monkey's-eye view of Corcovado National Park in Costa Rica. The rain forest was coming back to life after a sudden and violent tropical downpour. Puffs of water vapor hovered above the brocoli-green canopy. Close to my perch, a pair of slightly damp toucans were oiling and rearranging their feathers. And just to my left, at eye level, a troop of capuchin monkeys was traveling through the treetops in uncanny silence, the young clinging to the fur on their mother's backs.
The jungle vision was so enchanting that I forgot I was completely wet, and I almost forgot that I'd have to descend the tree the same way I'd come up: a nerve-jangling journey in a tiny bosun's chair attached to a pulley. The whole experience seemed to me the epitome of ecotourism-a gentle and conscientious trespass into another world.
Ecotourism is big business: it's one of the fastest-growing sectors of the travel industry, and ecotours have established themselves as a classic element of the modern itinerary. Being hoisted aloft to view the canopy of a rainforest, watching green turtles waddle up a Caribbean beach to lay their clutch of eggs, enjoying the space and silence of wildernesses that are beyond the reach of more cosseted travelers: these are as much a part of travel today as snapping on a pair of skis or gliding in a gondola through the canals of Venice.
But ecotourism is not just big business – it's also a Big Idea, one that has been touted for ends as various as developing the economies of poor countries, spreading the gospel of sustainable development, curing the environmental devastation that can result from conventional tourism, and safeguarding the world's endangered habitats. The ambitious claims made for ecotourism stretch credulity: If ecotourists are bridging cultural divides, saving the planet, and eliminating poverty on their vacations, what superhuman feats are they performing when they're at work?
After 72 hours in Costa Rica. I still wasn't sure if I'd even seen an ecotourist. I'd spotted several toucans; a sloth cleaning its armpit with long , yellow, Howard Hughes-like-toenails; a black tayra (a member of the weasel family) slinking through the jungle; a red-eyed tree frog suspended in a pool of water like an embarrassed skinny-dipper; so many scarlet macaws that I'd stopped counting; and capuchin, mantled howler, and squirrel monkeys. But no ecotourists-or none I could be certain about.
I'd caught tantalizing glimpses of distinctive ecotourist plumage; a flash of khaki shorts, a dollop of sun block on a prominent beak, the characteristic tread marks of stout walking shoes.
In Manuel Antonio National Park I saw a man wearing an Indiana Jones hat. His camera was attached to two feet of telephoto lens. Was he taking nothing but photos and leaving nothing but footprints?
It sure looked that way. But unless I followed him back to his hotel, I would never know whether he was staying at an environmentally friendly ecolodge with composting toilets or a foreign-owned mega-resort where he had just spent six days gambling, snubbing the locals, and amassing a sizable collection of endangered birds' eggs.
The International Ecotourism society has defined ecotourism as "responsible travel to natural areas that conserves the environment and sustains the well-being of local people."
This sounds like a simple enough definition, but teasing out all its nuances can seem as hard a job as untangling the hair in that sloth's armpit. For a would-be ecotourist like me, it's difficult to know where to start. There's now talk of a certification system that would gauge the greenness of hotels and tour operators around the world, allowing travelers to make informed decisions about where to stay and whom to go with. But it will be a long time before such a plain gains global acceptance.
So I'd come to Costa Rica to try to see ecotourism in the flesh. This small Central American country is one of the most biodiverse places on the planet: for example, it contains more species of butterfly than the entire continent of Africa. More than a quarter of Costa Rica is protected land. In 1993 tourism overtook the export of coffee and bananas as its biggest earner of foreign currency. I looked upon my trip as a visit to the greenhouse of ecotourism, to see some of its thoroughbreds, its hybrids, and its more frightening mutations. I found that the varieties of ecotourism in Costa Rica are almost as diverse as the country's butterflies: they come in all shades of green. But at its best, ecotourism comes close to fulfilling some of those lofty claims made for it.
TORTUGUERO IS A DOZY VILLAGE OF ABOUT 800 PEOPLE on Costa Rica's Caribbean coast. Much of its population looks West Indian and speaks Jamaican-accented English. Old logging machinery sits rusting in the middle of town, a memento of one of its two former livelihoods. The other, as the name suggests, is turtles.
Tortuguero's beach is the most important nesting place for green turtles in the Western Hemisphere. For decades, residents depended on the huge animals for meat, eggs, and money, the shells were sold, as a substance found under the belly plate that can be used to make glue. Nowadays, the town is even more dependent on turtles – but in a different way.
"We learned that there's more money to be made from a live turtle than from a dead one", a guide named Fernando Estrada told me as we stood beside the lagoon that serves as Tortuguero's main thoroughfare (one of the town's charms is the absence of roads). Another guide, Luis Torres, who sports an earful of raffish gold earrings, noted that he grew up here hunting and logging. He might have been speaking for the whole town when he said, smiling, "My life changed after I started working in the travel industry."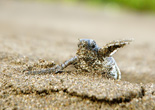 By 1975 Tortuguero's turtle population was declining drastically. Then, under pressure from scientist, the government established a national park in the area. Both catching turtles and logging were now prohibited: people either had to poach or find another way to make a living. Fortunately, the ecoturism industry was just getting going. Travelers were lured to Tortuguero by the opportunity to see turtles nesting in the wild, as word spread, the trickle of visitors became a flood. In the late seventies there were 10 basic hotel rooms in Tortuguero.
The town now has more than 500. Some 55,000 visitors come every year, and the resident population has doubled. Locals like Luis have switched from hunting to guiding. "It's business," one guide said. " If the money from the living turtles weren't enough, the dead turtles would continue". This money has helped bring Tortuguero electricity, running water, and a waste-treatment facility, the turtle population is no longer falling.
There's not much in Tortuguero to interest a conventional tourist: the sand on the beaches is gray, the sea is too rough and shark-infested for swimming, it rains here even in Costa Rica's dry months. But for an ecotourist, it's heaven. The inland lagoon is lined with pretty lodges whose designs harmonize with the forest. I slept under a whirling fan in a simple wooden room at Tortuga Lodge, took solar heated showers, and ate yellowfin tuna that had been enjoying a full oceangoing lifestyle three hours earlier.
FROM THE DOCK ON THE LAGOON. I SET OFF BY BOAT to observe the wildlife. In nesting seasons you can watch green turtles and huge leatherbacks lumber up the beach to deposit their eggs. Natural canals lead deep into a rain forest that is home to jaguars and an astounding variety of birds. What's more striking but harder to express, is simple the presence of the rain forest that surrounds you. Green and brooding, navigable only by water, it is like something out of Joseph Conrad. We wound through it in our little boat, killing the engine to drift up on collared aracaries, spider monkeys, and semi-submerged caimans.
All the attention Tortuguero now gets from the outside world has produced some paradoxical results. It's precious natural endowment must be protected from the hordes of visitors who come every year. Even in the off-season, my heart-of-darkness fantasies were occasionally shattered by encounters with boatloads of tourists. At other times of year, the pressure is worse. Local authorities have had to restrict the number of observers allowed onto the beach during turtle nesting and night-time jungle tours have been banned because the guides high-powered flashlights were disturbing the wildlife.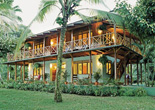 No one has yet figured how to cope with the sewage produced by the numerous ecolodges.
What's more, the new ecotourists are more demanding than the pioneers, who wanted not much more than clean water and a space to lay their bedrolls. At Tortuga Lodge, owner Michael Kaye has reluctantly installed a swimming pool, recognizing what others have called "the softening of ecotourism."
"Seven or eight years ago, people started to complain." Said Tamara Budowski, president of Horizontes, one of Costa Rica's leading ecotour operators. "They didn't want to get up so early; they needed ice; they asked for their own bathrooms, hot water, better food, air-conditioning." These second-generation ecotourists, she noted, even had shorter attention spans– they requested briefer explanations from naturalist guides.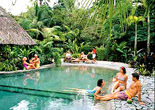 THE MATERIAL CHANGES HAVE PUT ADDITIONAL STRAIN on the environments visited. Even so, despite some quibbles- in particular that not enough tourists revenue remains in local hands - Tortuguero is widely cited as an ecotourism success story. For the time being the town appears to be balancing the needs of the visitors with those of the community and the fragility of its beautiful setting. Other parts of the country have been less successful, Manuel Antonio National Park, on the country's Pacific coast, remains breathtakingly lovely - its rain forest abuts a sandy beach and blue bay. But around it there are symptoms of overdevelopment: garish neon signs line the road; hotels are being built for visitors who want to explore nature but wouldn't dream of putting up with the austerity of strict ecotourism.
The best hotels find creative ways to stick to their green roots. With Hotel Si Como No, Jim Damalas has built something that compromises neither the environment nor vacationers' expectation of luxury. Waste is biodigested, water heated with solar power, and the structure itself set so gently in a patch of secondary forest that only one tree had to be cut down during construction.
To explore the palest end of the green spectrum. I stayed at the ecotourists' bete noire: the Barcelo Playa Tambor, Costa Rica's largest resort, on the Peninsula de Nicoya. Environmentalists opposed the building of this enormous 402-room hotel, which is virtually indistinguishable from other resort hotels around the world. Although it offers nature tours among more conventional activities, the manager a friendly Spaniard named Antonio Mas, told me he is under no illusions that his hotel is ecotouristic. He added that the only protests he hears now are about the caged macaws on the hotel grounds. They have once been allowed to fly freely, but too many got sick from being fed tidbits from all-inclusive buffet. The spectacle of scarlet macaws keeling over from a surfeit of pizza and a caramelised banana sounds like an ecotourist's bad dream. The birds are now locked up for their health's sake - giving new meaning to the expression "protected species."
At the other extreme is the Corcovado Lodge - a tent camp on the edge of Corcovado National Park on the Osa Peninsula that advertises with the catchy slogan: "All the comforts of home, if your bedroom is a 100-square-foot tent and you have to go outside and walk 20 yards to the bathroom."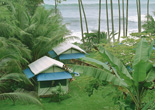 "I loved the solitude and the spectacular collision of ocean and rain forest. After my chairlift to the tree tops, I lay in a hammock and listened to the surf pounding the shore. In the evening I had a beer in the palm-thatched bar. When the electricity went off around 10, there was a sudden whir of furry wings as an entire rain forest's –worth of insects gathered around my flashlight.
Whether future developments follow the Corcovado route, trading luxury for space and serenity, or end up resembling Barcelo Playa Tambor, largely depends on the consumer. Visitors to the country are effectively voting with their wallets on the direction they want ecotourism to take. Responsible operators like Horizontes and Costa Rica Expeditions, the country's oldest and biggest ecotour companies, try to ensure that hotels and ecolodges maintain environmental standards, that a fair proportion of the income they generate finds its way back into the local economy, and that the natural beauty that entices people to Costa Rica in the first place is not put in jeopardy.
But in the end, the most well-intentioned operators will have to consider their customers' priorities. And even in Costa Rica, the true ecotourist can be an elusive animal.