Our wilderness lodges

Costa Rica Expeditions owns and operates lodges in three of the wildest corners of Costa Rica and its itineraries typically include a combination of visits to Tortuga Lodge, Monteverde Lodge and Corcovado Lodge Tent Camp. The wilderness lodges of Costa Rica Expeditions connect with and reflect their amazing surroundings in ways that seem perfectly natural, which, after all, should be the point when one takes a vacation in the wild.

The wilderness lodges of Costa Rica Expeditions are labors of love; love for the wild and beautiful places they help preserve and provide access, and love for the ancient art of innkeeping. They are integral and organic with their settings, simple but always comfortable, providing their guests with touches of luxury without seeming decadent. They all honor the rite of breaking bread, and are staffed by people who are guided by these words: "Legendary Service and Unforgettable Memories.®"

Tortuga Lodge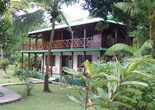 Costa Rica Expeditions' first hotel, and with a recent remodeling now its newest hotel, Tortuga Lodge is situated on 50 private acres on Costa Rica's northern Caribbean Coast. Its 27 rooms have as much window area as walls, a good thing when you are set into the most colorful rainforest in Costa Rica. Tortuga Lodge's main reason for existence is to provide room and board for people interested in exploring Tortuguero National Park.
Originally intended to protect a major nesting beach of the Atlantic green sea turtle, the park now protects 51,870 acres, one of the last large tracts of tropical rainforest in Central America. Three species of monkeys (Spider, Howler and White-faced), Three-toed Sloths, and river otters are frequently seen along the natural inland waterways and canals that surround the lodge. Caiman, iguanas, river turtles, Basilisk Lizards and Poison Dart Frogs inhabit the area, as do 320 species of birds.

Monteverde Lodge & Gardens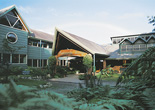 Located in the Tilaran Mountain Range at 4,600 ft. above sea level on the edge of the world's best-known mid-elevation cloud forest, Monteverde Lodge is the expression of Costa Rica Expeditions' desire to create the ultimate lodging experience for the discerning nature traveler. The 28 rooms at the Lodge are designed to put the guest "in the forest" while offering protection from the elements. All rooms are spacious with solar-heated hot water private baths.

The Monteverde Reserve protects an area of approximately 25,000 acres and six different life zones. So many habitats in such a small area along with extensive trail improvements allow visitors to enjoy a rich diversity of flora and fauna with relatively easy walking. More than 2,000 plant species, including a host of wild orchids, more than 400 species of birds and 100 species of mammals have been observed in Monteverde.
The area's natural diversity provides an enchanting backdrop that adds to the magic of relaxing at Monteverde Lodge. Many guests find that their most enjoyable time in Costa Rica is spent in the Lodge's private gardens, home to the native plant species of the cloud forest and the fauna it attracts: riverine birds, reptiles and amphibians.